Your Cat Health Questions (and Answers)

You have cat health questions, we have a community with answers.
I've included some of the more common cat health questions that are on my list to give us a start, and then I'll open it up to your questions and answers below.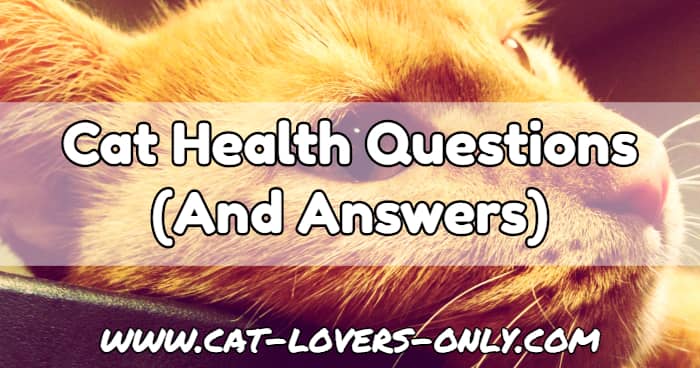 ---
General Questions
Q. My cat won't use the litter box, what should I do?
A. The answers to this are many and varied, depending upon the type of problem and the cause. The first step is to rule out a physical cause by taking your cat to the vet. Then, you can work through any emotional issues and behavior problems. See my cat litter box problems guide for more help.
Q. My cat is coughing. What does it mean?
A. Your cat may exhibit various hacking and coughing behaviors when trying to deal with hairballs. Hairballs in cats are quite common, and may contain fur, food, and other ingested items that ball up in the gut.
An actual cough, however, is relatively rare in cats and warrants a call to your veterinarian for guidance.
Q. What is a healthy cat weight?
A. Many cats are overweight. Just as in humans, overweight cats may develop weight related illnesses and medical conditions. Here are tips to help your cat stay slim and trim (more...).
Q. Is there a cat weight chart?
A. Yes, there are charts (more...).
---
Cat Health Questions Regarding Food
Q. My cat likes to eat dog food. Is this healthy?
A. No. Cats and dogs have different nutritional requirements. For example, cats require that an amino acid called taurine be in their diet in sufficient quantities. Without it, your cat may go blind or develop heart problems including cardiomyopathy.
If your cat is eating too much dog food and therefore not getting enough of what a cat needs, that is a problem. You'll need to adjust your lifestyle and feeding schedules to ensure your cat is getting adequate nutrition.
Q. Can chocolate kill cats?
A. Yes. Chocolate poisoning is more common in dogs, but many animals may have reactions to it, including cats. While small quantities may not kill your cat, chocolate should be off-limits for kitty.
I've put this one on here because I've seen elsewhere on the Web where people have asked this question and the answer was given as "no" so I wanted to make sure that cat owners are informed.
Q. Should I feed my cat table scraps?
A. Opinions on this are mixed with some veterinarians saying no, not at all, and others saying yes but in limited amounts.
There are a number of reasons why some argue against feeding human food to your cat at all. For one thing, if your cat's diet becomes unbalanced, she may become malnourished.
I hear stories about people feeding their cats cheesecake, macaroni and cheese, vegetarian meals, and all kinds of other things (that I would probably never feed my cat).
Around the holidays, some cats end up with a case of pancreatitis (inflammation of the pancreas) from being fed foods outside of their normal diet. While any sudden change in diet can cause a kitty to experience stomach upset, pancreatitis is serious business, and can be fatal.
Your cat's physiology is designed for a low carbohydrate diet, so something like cheesecake is not a good idea. Some vets will say that feeding scraps of meat (without spices or sugary sauces) is probably OK in moderation for most cats, but be careful.

Cats are obligate carnivores. They need meat and can't get all the nutrition they need from a plant-based diet. So, broccoli is fine if your cat likes it, but your cat needs meat to balance things out.
To ensure that your cat has the most balanced diet possible, with all the required nutrients, most vets recommend commercial cat food that meets AAFCO standards.

If you do feed table scraps...
Unless you want a beggar, don't feed directly from the table or the stove/oven. Prepare the food and feed your cat at a later time. Preparing homemade cat food recipes are another option.
---
Poisons and Your Cat
Q. I want to keep my cat away from my plants, my garden, and other areas of my house. I've heard that I can use mothballs as a cat repellent. Someone said I shouldn't because they're poisonous.
A. Yes, the two different substances that mothballs are made of are both poisonous to cats. Don't use them.
If you feel you must use mothballs as a cat repellent, then put them in a glass jar with a metal lid Punch small holes in the metal lid so that the fumes can escape. Don't let pets or humans, especially children, come in contact with the moth balls.

Q. I've heard that many household items, including common cleaners, contain chemicals that may be poisonous to cats. Is this true? Where can I get a list of these items?
A. Many household products can be poisonous, or at the very least an irritant to cats and other pets. New products are put on the market all the time. Check with the ASPCA Animal Poison Control Center for the latest on poisoning issues.
Q. Can I give my cat aspirin or other over the counter drugs?
A. No. According the ASPCA Animal Poison Control Center, human medications are the number one cause of poisoning in pets.
A small amount of Tylenol can kill a cat, and aspirin takes your cat's body about 3 days to metabolize. Never try to treat your cat with drugs for humans, unless instructed by your veterinarian to do so, and keep all medications under lock and key so your cat does not accidentally end up poisoned.
Q. Someone told me that Pepto Bismol is OK to give my cat. Should I give my cat Pepto-Bismol for vomiting or diarrhea?

No. According to veterinarian Arnold Plotnick, the main ingredient in both Kaopectate and Pepto-Bismol is bismuth subsalicylate, which is related to aspirin. For that reason, giving a cat either product is not recommended.

---
Cat Parasites
Q. There's black build up in my cat's ears. What is that from? Does my cat need treatment?
Without seeing it, it's hard to say, but a black build up in your cat's ear is likely caused by a parasite known as ear mites. It often is described as looking like coffee grounds. Ear mites in cats are treatable, but a veterinarian should clean your cat's ears since doing this improperly can cause damage, and doing it incompletely will not cure the problem.
Q. Do home remedies really work on ear mites?
A. After the cleaning procedure is done correctly (by your vet), a home remedy may help, but most of the time their effectiveness is less than optimal. Ideally, your vet should do the cleaning and then prescribe treatment.
Q. I think my cat might have worms. How do I tell?
A. Your cat should be tested for worms once per year by your veterinarian. Keep in mind that worms can be present whether you see them or not, and an infected cat may not show any signs or symptoms. Here are some common types of cat worms and how to spot them.
---
Get Answers From Veterinarians
There are many question and answer type sites popping up on the Internet. Beware when getting any answers to cat health questions on the Internet.
While even different authoritative sources can have conflicting information, many of the question and answer sites are filled with misinformation, rumor, and innuendo.
Your veterinarian is your best source for health information regarding your cat.
That having been said, for a nominal fee, JustAnswer.com has expert advice and immediate answers to specific questions from trained veterinarians and cat experts.
Click here for more info on how to get an answer using this service.

---
Books that Address Cat Health Questions
Cat Talk: What Your Cat Is Trying to Tell You by Carole C. Wilbourn. This book focuses a lot on cat behavior, but gets into the connection between emotional problems in cats and cat illnesses.
The Encyclopedia of the Cat contains information on cat health, first aid, parasites, and home nursing kittens.
Now, let's tap into the collective wisdom of our readers below...
---
Ask Your Cat Health Questions
Cat health questions submitted by Cat Lovers Only readers are below. Feel free to submit your own using the form provided.

What's Your Most Important Cat Health Question? (Ex... What's the Best Flea Treatment You've Used?)
Do you have a nagging question on cat health that you want the Cat Lovers Only readers to answer? Do you have an answer to a question you once had that you feel would help other cat owners? Share it!

You can ask a question or post an answer along with your question. Remember that everyone's situation is unique. Please include a background story so that readers can understand the context of the question and provide a better answer for you (or better understand your answer).

This will better help us all to learn about cat health.
Questions and Answers from Other Visitors
Click below to see contributions from other visitors to this page...

---
More Cat Health Questions
My cat has lost muscle mass in her back
Theresa needs advice concerning her 13 year old cat. She previously had a bad experience with a vet, and she's very nervous about what the vet might say and what the outcome is going to be.
Should I buy cat health insurance for my three cats?
Opinions wanted: Carmella, is considering purchasing a cat health insurance policy for her three cats, at $20 per month per cat. Do you think this is a good investment?
What's the best way to care for a cat with a broken leg?
Brenda wants to know how to best care for her cat with a broken leg (for the second time).
---
Related Topics

More than 70 cat illness signs and symptoms
---