Good Kitten Names are Hard. Who knew?

Need help choosing good kitten names?
It turns out, choosing a good cat name is a hard thing. Harder than you'd think, am I right?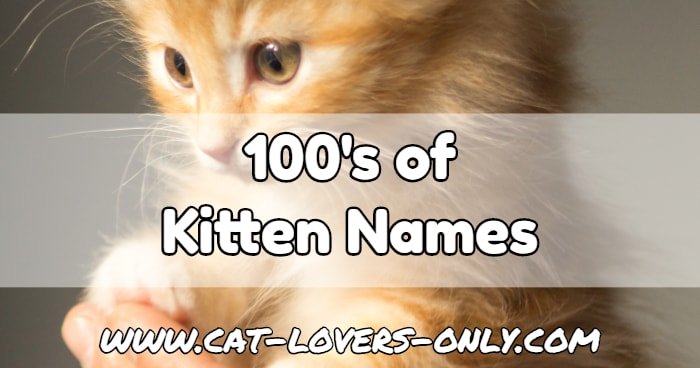 If you need help, if you're:

Still struggling to figure out which of the many possible kitten names is the right match for your cat?
Wondering if the name will fit your cat's personality (or is it purrsonality?)?
Thinking that a cute name for a kitten won't sound right when your cat becomes an adult?
Wanting a name that will stand out in a crowd? Something with meaning behind it?
Stuck?
Looking to take some inspiration from what our other readers have named their cats?

You've come to the right place. I'll even give you some rules you can follow (if you like) to help with naming your kitty, and, of course, a whole bunch of name ideas from our readers.
The selection of kitten names is as diverse and interesting as cats themselves! As such, choosing the right name for your kitten is not always easy.

We've got hundreds of ideas for you to help pave the way, but first things first...
Can Cats Learn Their Names?
Do cats learn their names, and do they come when called?
Despite what many have tried to say in the past, cats can and do learn their names. While some cats typically do not respond to their names as enthusiastically as dogs, many cats will at least react to their name in some way.

Many cats will come when their names are called, although it may take some coaxing at first to get them trained. Whether it is a look, a flick of the tail, or even coming to you when called, most cats do react to their names being used.
But, it may take several tries each time you want them to come to you, especially if they are wrapped up in a task.
The "Best" Kitten Names?
Some experts say that the best kitten names end in an "ee" sound. Supposedly, both kittens and adult cats respond best to names that end with this sound.

The Rules: How to Name a Kitten
Below are some rules and recommendations on kitten names, and how to get your cat to respond to the one you've chosen.

I can tell you from personal experience, however, that a cat can and will learn a name that does not fit this mold. For example, my oldest cat, Priscilla, knows her name and always responds to it.
"Smokey" or "Silky" or something like that would probably have been an easier cat name for her, but she seems to do just fine with the name she has. I know, Smokey is often used to name male cats, but you get my point.
Try to keep cat names fairly simple. Shorter is usually better. No more than 3 syllables, and use long vowel sounds. For example, a not so good kitten name would be "kitten." Even though it is short (two syllables), it has short vowel sounds. Something like "Marty" or "Katie" would be better, since they have a long "a" and end in the "ee" sound.
Be specific - choose a good kitten name that you think fits and decide how to pronounce it - then stick to it. Don't send your cat mixed signals about the sound of the name by pronouncing it differently each time.
Don't truncate the name - if you name your cat "Smokey," then don't start calling him "Smoke" instead. Always call him "Smokey," or choose "Smoke" in the first place.
Be consistent - once you choose "Misty," then "Misty" doesn't become "Maria" all of a sudden - once kitten names are chosen and the training starts, that's it. Again, no mixed signals.
Be nice - always use a nice tone when saying the kitten's name - would you respond well to a strange word that someone always yelled at you?
Use positive reinforcement - put your cat in a "feel good" mood by petting your cat for a while, then begin saying her name as you stroke her.
Use Play - say your cat's name repeatedly during a light play session with a toy she likes.
Use food - pet your cat and say her name while she's eating, or feed her a treat.
Don't use negative reinforcement - this might seem like common sense given number five, but you might be surprised how many people will use kitten names in a harsh voice to punish their cats! If your cat is doing something you don't want her to do, use other sounds and words, like "no" or a loud noise as a behavior modification tool - not her name.
Reward your cat - every time your kitten reacts to her name, praise her in a soft, high pitched voice, and reward her with lots of physical attention like petting, hugs, and treats.
Never use punishment - when using the kitten's name doesn't produce the desired reaction, simply ignore your kitten's behavior and go back to using the techniques described here. Never yell at your cat or punish her for not responding to her name.
Remember, whether it's kitten names or litter box training, you are using a behavior modification technique.
The basic rules here are to get your cat in a positive mood, ignore undesired behavior, and reward your cat whenever you catch her doing something you want her to do.
Those are also solid tips to keep in mind when training your cat in any way.
As a final note on the "rules" I would say to have fun with it, and do whatever works.
House cats have proven over and over again that they're a pretty smart bunch, and will adapt to whatever name you choose. I've seen cat health experts name their cats in total opposition to the rules, so go ahead and be a rule breaker. Have at it!
---
The Naming of Cats (with the Help of Lists!)
Just like with human babies, if you're having trouble choosing, lists of cat names can help. The below pages contain lists of names as well as other resources with more lists.
Female cat names
A list for girl cat owners.
Male cat names
Owners, ahem, guardians of boy cats should check this list.
Black cat names
An extensive list that includes some creative and unique black cat names, along with some history and explanation.
Orange Cat Names
A comprehensive list of names for ginger kitties that draws inspiration from pop culture, humor, food, and even superheroes and giant stars.
Tuxedo cat names
These are good names for black and whites.
Unusual cat names from VPI's annual list. Some of these are a little out there, even for me.
Some fascinating cat names are contained in the works of T.S. Eliot, including a few in this famous poem, aptly titled, "The Naming Of Cats."
You may recall that Eliot's work was the basis for CAT's the Musical, the famous play by Lord Andrew Lloyd Webber.
Here's a list of the most popular cat names from a company in the cat ID tag business.
Below are some of the cat and kitten names submitted by our readers. Use them for inspiration.
Want to See the Largest List of Cat Names Ever?
Then you're gonna have to help build it! Just answer the simple question:

What's your cat's name?

We'll collect all the names and publish them until we have the largest collection of names that we know of. Also include the following information so that we can properly categorize the name.

What color and coat pattern is your cat? (Examples: solid white | red tabby)

Why or how did you chose the name, or was the name chosen for you?

Upload a picture of your cat, and optionally, share a cute or funny story about your cat and any other details as well if you like.
List Of Cat Names
Click on the links below to see the names submitted.

Here are some more cute cat names submitted by our visitors. These submissions didn't have any pictures submitted with them, and were each too short to demand a full page on their own.
Bow Wow Meow - list of popular cat and kitten names based on pet ID tags issued. Includes meanings too.

---