Can't Get Enough Cats? (Me Neither)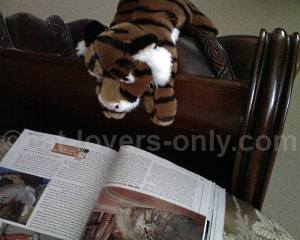 Join Team Cat Lovers (our free cat club) and get plenty of cat in your inbox.

Sign Up to Become A Member (It's Free!!)
As a Member You'll Get Updates, Plus:
Tips: You'll get tips on how to make sure your little furry one stays in a state of purrfection.

Kitty Offers: It's always nice to save money on the stuff you buy for your kitty.

Reader Stories: You'll hear about what our other members' cats are up to, their favorite habits, what they like to eat, or what their favorite toys are.

You'll also be able to hear about how others have solved their cat behavior and health problems. Fair warning: some of the questions and stories may make you mad, or make you cry, but sometimes we need to surface some tough issues in order to help out our fellow cat lovers and promote the welfare of cats.

Along the way, you'll also get some free goodies, and anything else I find of interest. If you love cats as much as the rest of our readers do, you'll want to be sure to subscribe now so you don't miss a single update.
It's Easy to Join
Simply enter your email address below in the form (above or below), and then click the button below that.
It would be CATastrophic if you didn't join! And did I mention... it's free!
---