What's The Best Cat Food? The Search Is On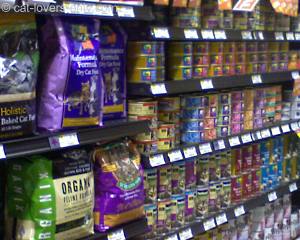 Finding the best cat food to feed your feline friend is an important, but somewhat difficult chore. Pet food labels may be deceiving, especially if you're not sure what to look for.
As a cat owner, you're fully responsible for your cat's well being, and therefore faced with numerous decisions that affect your cat's health. Which vaccinations to give, selecting a vet, and spay/neuter decisions are all important.
Have a favorite cat food that has worked well for you and your cat? Let other cat lovers know about it by adding to our cat food reviews.
It might be argued, however, that providing the right nutrition for your cat is the biggest cat health decision of all.
You are what you eat, even if you're a cat. Especially if you're a cat.
Yet, this is possibly one of the subjects that most cat owners know the least about.
Some would say, of course, that their cat tells them what food to buy. If you have a finicky Morris of your own at home, you know how it goes.
In this series, we'll dig deeper into this topic and try to answer some tough questions, and make your job as a cat parent a bit easier. Join us as we go in search of the best cat food.
So, how do most cat owners choose the best food for their cats? For most cat owners, there are several major areas of concern:
Convenience
Cost
Environmental impact
Cat health (and human health as well)
Unfortunately, this convenience vs. cost vs. environmental impact vs. cat health list often puts cat health, quite literally, last.
And so, we go in search of the best cat food we can find for your cat. This is not an easy process. I've already done many hours of research, and it will take many more to make sense of the data and publish it online.
I can't possibly research every brand of cat food, but over time, I'll publish the information that comes my way.
We'll fill this section of the site out with (hopefully) enough information so that we can feel comfortable with the choices we make. I intend to cover cat food labels, brands (which may change of course), and the pet food manufacturing process itself.
Even then, there are still some unanswered questions.
---
Brands of Cat Food
EVO cat food (Discontinued summer, 2018.)
Pet Promise cat food (Discontinued January, 2010.)
More about popular brands of cat food.

---
Cat Food and Your Kitty's Health

What is a safe cat food? Does such a thing even exist, and can we make cat food safer?
Learn to read the labels and understand cat food ingredients so you know what your cat is really eating.
Are there health benefits to grain free cat food?

---
Wet Versus Dry Cat Food
There is some debate over the benefits and drawbacks of wet food versus the dry type. This is especially true when looking at the development of feline lower urinary tract disease (FLUTD) and the development of crystals in the urine.
The growing consensus seems to be that wet food is better than dry, and for a number of reasons. You'll want to work with your veterinarian (and your cat), though, to determine which type of food works best.
Please take a moment to help out other cat lovers and take our dry food poll. If you don't feed dry food, please let us know that in the poll. The same goes for our best canned food poll.
---
What's Your Top Pick For Best Cat Food?
Has your cat secretly been eating the best cat food? Have a cat food that's worked well for you that you're keeping to yourself? Have a favorite homemade recipe?

Share your story, tip, recipe or review of your choice for the best cat food with other cat lovers. Please describe why you like this food.

If your top pick is one of the ones already recommended or reviewed on this site, that's fine. Inquiring cat lovers want to know your opinion!
Read Other Best Cat Food Reviews
Click on the links below to see some great reviews on the best cat food available. They were all written by other visitors to this page.

---
Foods Your Cat Should Not Eat
My mission was simple, or so I thought... compile a list of foods that your cat should not eat. Well, ten hours later, I was still researching toxicity questions with respect to cats and tomatoes.
There's some discrepancy over whether or not table scraps (or other human food) should be fed to your cat. Some veterinarians draw a hard line on this and recommend no human food at all. The general thought, though, is that some is acceptable, but a little goes a long way.
Feeding cats tuna is of particular interest because so many people ask about it. Certainly, cans of tuna are not the best cat food as a kitty's primary diet.

Feeding your cat tuna every day will not give her the nutrition she needs, and experts warn it will likely cause toxicity problems. Eventually, it will cause health problems, or worse.
Vegetarian and vegan diets are also controversial, as cats are obligate carnivores and must have meat in order to get certain nutrients. Without meat in the diet, they will die.
The ASPCA has a list of people foods that pets should not eat.
---
Related Topics
Which Low Cost Cat Food Brand is Best?
---