Litter Box Problems Got You Puzzled? Frustrated?

Need help solving litter box problems?
Has your cat suddenly started to use the carpet or floor as a toilet?
Can't figure out why? Puzzled by this behavior?
Let's ease your frustration and get your kitty back on track.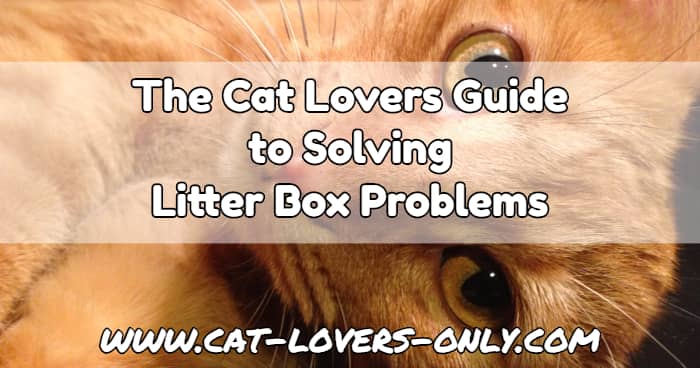 Solving these problems is a challenging task. To fix your problem, you'll have to learn more about cat behavior, and remember that there can be several factors involved.
Despite the fact that I've had a page up on litter box problems for quite some time, I continue to get many requests for help from visitors surrounding this and related problems.
I've put together this more extensive guide in the hopes that this will give you many ideas and strategies on how to overcome your problems.

As this website becomes more and more popular, I unfortunately don't have the time to respond individually to requests for help via email.
In addition, I am not a veterinarian, and am not qualified to give such advice. I am also not an animal behaviorist or a pet psychologist, and I don't have any formal training in these areas.
I do, however, understand cats quite well, and I certainly know how frustrating it can be to try to understand them, especially when they're having problems.
So, here's what I've put together...

---
Cat Litter Box Problems Guide

Cat Box Problem Overview
Of all the categories of cat behavior problems, box problems can be one of the most difficult to overcome. Sadly, it's been reported that the most common behavioral reason for an adult pet cat to be given up to a shelter is an unresolved problem with inappropriate elimination. Here we'll cover the behavioral and physical causes of this issue.
Tips for Solving Litter Box Problems
Solving cat box problems can be a challenge. Anything from an illness to stress can throw your cat off her routine. Your veterinarian needs to be involved in the discussion, and physical problems ruled out before you approach the behavioral issues. You should be aware that even the most well adjusted cat can be thrown off by stress. Stress can come from many sources, including a change in household routine, the addition of a family member or pet, or the death of another pet. Even changing the amount of attention your cat receives can put stress on your cat.
Anatomy of a Cat Box Problem
Solving a litter box problem means being patient, diligent, and consistent with your cat. If your cat develops litter box aversion, the original cause can either be medical in nature, or it may be behavioral. If there's a health issue, it will need to be dealt with first. Either way, some retraining may be required to get your cat back on track.
Litter Box FAQ
I've seen some general litter box questions come up repeatedly, and thought I'd put them together in this FAQ (frequently asked questions) document.
Reasons Your Cat Won't Use the Cat Box
Some of the main reasons your can't won't use the litter box.
Solving Cat Urine Problems
Nobody wants guests to walk in and be able to guess by the smell that they've got a cat. There are two main types of urination problems in cats... inappropriate urination, and spraying or marking behavior.
Solving Defecation Problems
If you have a problem with your cats defecating outside of the litter box, but urinating inside the litter box, you might find some relief contained within these question and answer pages.
What's Your Choice for the Best Cat Litter?
One of our readers, Lynn, asked for some help, so we put out a call for opinions on the best cat litter.
Is the Cheapest Cat Litter Really as Cheap as You Think?
I tested the cheapest cat litter I could find for 120 days. I found that it wasn't providing the savings I thought it would.
Should You Use Flushable Litter?
Can you really flush cat litter, or are you risking your plumbing? And... is flushable cat litter biodegradable?
---
Starting Your New Cat Off Right

If you have a new cat or kitten at home, it's best to start them off right so that you don't encounter litter box problems in the future. You might want to have a look at the cat box basics section of the site, including information on the pros and cons of automatic and self-cleaning boxes.
Litter Box Training
Basic cat litter box training requires providing the right environment for your cat.
Cat Litter Box Training Tips
Information on box training in a tip sheet.
---
If your cat won't use the litter box, or is experiencing some kind of related issue, these pages are here to help to guide you as you work with your vet or other professional. If you'd like to contribute to this site and either post a problem or a resolution, please see the form and instructions below.
As for my own experiences with my cats in this area, while Teddie has had her bouts of constipation, and Frankie has had issues with what I call "cling ons," none of the three Cat Lovers Only cats have ever had clinical litter box problems. There has never been a case of inappropriate elimination in the house, so I have not had to personally conquer this beast.
When Teddie is having constipation problems, she plays around in the box and swishes the litter around, but doesn't go. She'll visit the box many times within a short time span, and sometimes she'll act like she's trying, but no dice. Eventually, she uses the box.
If your cat is acting like that, it's probably not related to what we normally call box problems. She may be constipated, however, which can lead to long term bowel health problems. Also, feline constipation can have a number of causes, including impacted anal glands. So make sure you follow up with your vet.
---
Have A Cat Litter Box Problem? Or... Have A Solution To One?
Do you have a cat litter box problem with your kitty? Or... do you have a solution to one that would help someone else? A fix that worked for you, or might work for someone else? Share it!

This is our discussion forum where you can help and be helped by other Cat Lovers Only readers!

You and others can comment, and vote on submissions so that other readers can know which solutions work most often.

Check back here in a while to see your post as submissions need to be approved. I'll do my best to get to them as soon as possible.
Problems and Solutions from Other Visitors
Click below to see problems and solutions posted by other visitors to this page...

---
Resources
We've pretty much covered every scenario through the posts listed above, but just in case...
Here's a list of resources on inappropriate elimination, the litter box, and spraying/marking behavior which either support the information I have published in this guide, or offer additional insight or a different perspective on the issues.

Cats International
Cats International offers information on feline behavior including training techniques and behavior modification. Problems such as destructive scratching, inappropriate elimination or house soiling, and aggression have been successfully treated.
Dumb Friends League
The Dumb Friends League is a private, nonprofit organization founded in 1910. They provide a wide variety of resources for cat lovers, including some of the best advice on cat litter box problems.
VeterinaryPartner.com
Veterinary Partner has a good page on the differences between spraying/marking territory and inappropriate elimination.
---