Helping Cat Rescue Groups
and Shelters Get the Word Out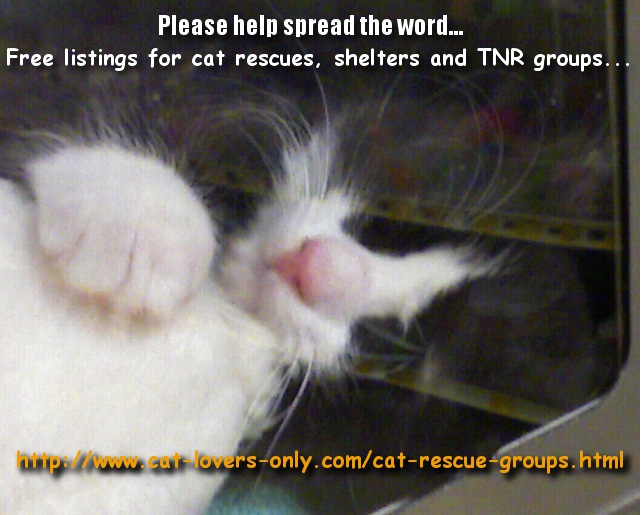 Cat rescue groups perform a community service by helping cats in need.
The work may involve resourcing or funding shelter pulls, fostering arrangements, feeding, grooming, and permanent placement efforts.
Special focus is often given to cats most at risk of euthanasia. The clock is ticking when a cat is in a shelter, so time is of the essence.
I believe that more exposure leads to more donations, more volunteer and foster participation and ultimately, more adoptions and lives saved.
Get the word out...

Some rescue groups do exclusively purebred rescue, and others work with all types of domestics.
In addition, some rescues may focus all or part of their attention on feral cats to save lives and reduce environmental impact.
Many work with trap-neuter-return (TNR) initiatives. TNR (also called trap-neuter-release or the word "trap" is replaced with the word "capture") is where feral cats are captured, neutered, vaccinated and then returned to their habitat.
Sometimes protective shelters are built for them, and they may be fed regularly and get periodic routine medical care.

Other rescues may focus on wild cats or big cats, and help to preserve species and protect the environment.
Some rescues, like the Cat House on the Kings in California, are sanctuaries set up in people's homes or on large plots of land. There are no cages, and the hundreds of domestic cats (and dogs) have the run of the place.
Tabby's Place in New Jersey is another cage free cat sanctuary set up by a former dotcom pioneer. When his cat was diagnosed with a terminal illness, Jonathan Rosenberg left his position at CNET and decided to honor his beloved cat by making a difference to cats and cat lovers.
Other rescues may be more like traditional cat shelters while some use exclusively foster homes to house the animals.
How You Can Help Cat Rescue Groups
If you'd like to help more shelters and cat rescue groups get noticed and save more lives in the process, there are several things you can do. You'll barely have to leave this page to do them.
1. Save this image to Pinterest...
2. Tweet this...
3. Help us grow. Please help us build out our directory of cat rescue groups by asking your favorite rescue or shelter to list with us. It's free for them and easy to do. You can use the sharing buttons near the bottom of the page to help spread the word. Thanks!

List Your Cat Rescue
Want free exposure for your cat rescue group?

Create a free listing right here on the site and get the word out!

Tell us about your organization, and leave your contact information (website URL, address, phone number, etc.)... The more unique and inviting your entry, the more your listing will stand out.
Cat Rescue Groups
Click below to see other cat rescue listings...
---
Purebred Cat Rescues

Pure breed cat rescue A to Z
Cat breed rescue
Bengal Cat Rescue
Maine Coon Cat Rescue
Persian Cat Rescue
Ragdoll Cat Rescue
Siamese Cat Rescue
---
Related Topics

Adopt a shelter cat month
Be kind to animals week
Finding a lost cat
How to help animals
Petfinder
10 Good Reasons to Adopt a Cat
---
Feral Cats

---
Rescue Stories

---
Videos
---