Black Cat Names
Good black cat names can be as mysterious as the look of the felines they're bestowed upon, or as comical as they act.
Creative names for your black kitten can come from the appearance of these mysterious felines (such as Velvet, Blackie, or Midnight), or from folklore or history (like Warlock, Dracula, Blackstone, or Colin Powell).
If the idea of famous black cat names that aren't quite as famous as say, Ray Charles, appeals to you, then characters might work.

For example, characters from TV, movies, or literature work well (such as Sylvia and Isis, both from the original Star Trek series, or Pluto from Edgar Allan Poe's "The Black Cat"). Names like these are sure to spark dinnertime conversation.

I can also see using the names of poets or writers themselves (Poe, for example).

I've heard some folks suggest Lucifer or Satan.
Others might say those are not appropriate black cat names, or names for any animals. Lighten up!
OK, seriously, Lucifer is workable, and could be shortened to Luci, or Lucy if you like.
Lilith the black cat
But, I'm not so sure about Satan.

It's too blunt perhaps, and a name like that might offend some people, or at least draw some negative attention.
Imagine walking into the veterinarian's office and saying that you have a problem with Satan. "Hello, yes, please send the men in the white suites. Bring a straight jacket."
I think Hades might work though, but that's just me. Pluto is another one, and for several reasons, but nothing to do with Mickey Mouse!
First, Pluto is the Roman counterpart to the Greek Hades, god of the underworld. Second, Pluto road four black horses. Third, as mentioned, Poe chose that name, not so coincidentally, for the black cat in his story.
T.S. Eliot gave us many cat names to toss around. Two monikers that he left us with come to mind. Tantomile was conceived as a witch's cat and so would be suitable for a black cat. Sillabub is combination of silly and Beelzebub, a much more playful name for the devil.
If you're lucky enough to be the guardian of one of these ebony fur ninjas, as I like to call them, you'll want to be sure to mark your calendar for August 17, which is Black Cat Appreciation Day. Boom!
---
The List Of Black Kitty Names
I've said it before. Choosing (just the right) cat names can be hard. Fear not, help is here!
Below is the enormous list of black cat names. OK, so it's not so impressive, but it will be by the time we're done.
Below that, is some explanation that will bore the heck out of you.
It's said that black cats in shelters are adopted out less often than cats of other colors. Couple that with the fact that some myths about black cats may leave a bad impression, and black kitties get a raw deal. Let's show them some love!
Got black cat? Got black cat names? Please help us expand and grow our enormous list of cat and kitten names.
Abracadabra
Africa
Alacazam
Apocalypse
Ash
Ashes
Asphalt
Bad Luck
Badlands
Bagheera
Barack Obama
Bat
Batty
Beauty
Beelzebub
Begemot
Behemoth
Belial
Betty White
Bitumen
Bituminous
Black Angus
Black Bart
Black Beauty
Black Cat
Black Hat
Black Hill
Black Hills
Black Ink
Black Knight
Black Magic
Black Mamba
Black Night
Black Olive
Black Opal
Black Orchid
Black Panther
Black Pepper
Black Pete
Black Racer
Black Widow
Blackbeard
Blackberry
Blackie
Blackjack
Blackout
Blackstone
Blacktop
Boots
Bowtie
Broom
Brownie
Carbon
Cat Burglar
Chance
Char
Charcoal
Charlie Parker
Charm
Charmed
Charred
Chimney
Chimney Sweep
Chocolate
Chocolate Brownie
Chocolate Love
Cinders
Claudia
Claudio
Clawdia
Clawdio
Clawed
Cloudy
Coal
Coal Dust
Coal Tar
Cocoa
Coffee
Coffee Bean
Coke
Cole
Colin
Colin Powell
Conjure
Cool Cat
Cool Jazz
Cool Kitty
Coolie
Coolio
Copperfield
Count Basie
Count Chocula
Count Dracula
Cozy Cole
Crow
Cup o' Java
Daffy
Daffy Duck
Dark
Dark Chocolate
Dark Cloud
Darkside
Darth Vader
David Copperfield
Death
Demon
Devil
Diablo
Diabolic
Domino
Dracula
Drak
Duke Ellington
Dusk
Dusky
Ebony
Eclipse
Eightball
Elvira
Elvis
Ember
Eve
Felix
Fortune
Golden Eye
Good Luck
Graphite
Graveyard
Gray Boy
Gray Girl
Gray Sky
Grey Boy
Grey Girl
Gun Metal
Hades
Halloween
Harry Blackstone
Hocus Pocus
Hot Cocoa
Immortal
Imp
India
India Ink
Indian Ink
Ink
Inkspot
Inkwell
Inky
Isis
Java Bean
Jazzy
Jelly Roll Morton
Jet
Jet Black
Jinx
King
Knight
Legend
Lester Young
Licorice
Lionel Hampton
Luci
Lucifer
Luck
Lucky
Lucky Charm
Lucy
Magic
Magpie
Malcom
Malcom X
Martin Luther King, Jr.
Mephistopheles
Merlin
Midnight
Miles Davis
Mittens
Mocha
Moon shadow
Moonless
Moonrise
Morgan le Fay
Morgana
Morning Joe
Morsels
Morticia
Mourning
Mystery
Mystic
Myth
Nestle
New Moon
Night
Night Stalker
Nightlife
Nightmare
Nighttime
Nimbus
Ninja
Obama
Obsidian
Obsy
Occult
Omen
Onyx
Overcast
Pagan
Panther
Panthera
Pepper
Pepsi
Pete
Phantom
Pitch
Pitch Black
Pluto
Poe
Prince of Darkness
Rain Cloud
Raven
Rone
Rootbeer
Sabrina
Salem
Samantha
Satan
Satanic
Scholomance
Scotty
Semi-Sweet
Shade
Shadow
Silhouette
Sillabub
Silvi
Silvia
Silvio
Sin
Sinister
Sister Sledge
Slate
Smoke
Smoke Stack
Smokey
Snowball
Socks
Sooty
Spades
Spooky
Starry Night
Storm
Storm Cloud
Stormy
Supernatural
Sweep
Sylvia
T.K.
Tabitha
Tantomile
Tar
Tara
Tarantula
Tarmac
Thunder
Timmy
Timmy's Kitty
Top Hat
Vader
Vamp
Van Gogh
Velvet
Vlad
Voodoo
Warlock
Wednesday
Whitey
Wicca
Wiccan
Winston Churchill
Witch
Witchcraft
Witches Hat
Witchie
Wizard
---
Want to See the Largest List of Cat Names Ever?
Then you're gonna have to help build it! Just answer the simple question:

What's your cat's name?

We'll collect all the names and publish them until we have the largest collection of names that we know of. Also include the following information so that we can properly categorize the name.

What color and coat pattern is your cat? (Examples: solid white | red tabby)

Why or how did you chose the name, or was the name chosen for you?

Upload a picture of your cat, and optionally, share a cute or funny story about your cat and any other details as well if you like.
List Of Cat Names
Click on the links below to see the names submitted.

---
Some Explanation
I'll offer some additional explanation for some of the black cat names in our list. Some of these names are quite obvious as to why they've been included.
For example, Ebony is pretty obvious. In looking at the CFA list of cat breeds, it's also the term used to denote a black Oriental cat.
Abracadabra, Warlock, Witchie, and the ironic use of Whitey I think are quite obvious. Others need explanation. I might explain the obvious too, just in case, or just because I can. Here we go...
In folklore, cats, especially black cats, were said to be the "familiars" of witches. So, familiar being "of the family" brings me to thoughts of "We Are Family" by the singing group, Sister Sledge.
Throwing some more ideas around, black cat names can come from the names of famous people, or famous people's cats.
T.K. was actress and animal rights supporter Betty White's cat. She named him T.K. for Timmy's Kitty, since her black poodle named Timmy made friends with the shy, stray black cat. So, in my opinion, a good name for a black cat would be Betty White, Timmy, or T.K.
Some cats with black colored coats are a deep, coal black, inviting names like:
Coal
Cole (alternative spelling)
Charcoal
Kingsford (the charcoal company)
If you're a science buff, or into things that are related to minerals or rocks, or made from, related to, or come out of the ground:
Bituminous (as in coal)
Bitumen
Asphalt
Black Lava
Black Sand (Sandy)
Other black cats are more of a chocolate brown or a coffee color, or their coats experience "rusting" in the sun, inspiring names such as:
Brownie
Chocolate Brownie
Fudge Brownie
Count Chocula
Fudge or Hot Fudge
Or
Coffee
Java or Hot Java
Cup o' Java
Mocha or
Morning Joe
Still others are more of a grayish black, which conjures up images of the Sky (as in Gray Sky). Gray, in cat fancier terms, is blue, so we have Blue Sky for a dark, grayish-black cat. That's really stretching it, I know, but Smoke would certainly work.
But wait, there's more...
It's common for the root of each hair, even for so-called "solid" colored or "self" colored cats to be lighter than the rest of the hair shaft. Some cats, including black cats, however, can have a white root.
When the root of the hair is white like that the cat is referred to as a Black Smoke. These cats can be quite striking, since the hair separates when they move, exposing the white underneath.
So, Smoke, Smokey, or Smoke Stack would work well for these cats too. What about something along the lines of the dark cloud with the silver lining kind of thing? I'm sure there's a name in there somewhere. Silvi, Silvia, or Silvio?
Cloudy? Partly Cloudy? Claudia or Claudio? Ah... Clawdia or Clawdio (or Clawed). Stretching it? Yep.
Oh, here are more:
Dark Cloud
Rain Cloud
Nimbus
Storm
Storm Cloud
Stormy
---
Cool Black Cat Names
In the 1930's, jazz musicians brought some terms from African American slang into popularity. The term "cool cat" was someone who could play his instrument well.
The famous saxophone player, Lester Young, was said to have popularized the usage of the term cool. About 20 years later, "cool jazz" evolved as a term for an understated type of jazz, such as that played by Miles Davis.
In addition to having been exposed to this while learning jazz drumming, I decided to look it up. What I found were some websites that said the term "cool" came from the roaring 20's, meaning "fashionable" or "trendy" but that's not how I remember it when I was learning to play be-bop and swing.
Since what I thought I knew was in contrast to what some other websites say about the derivation of the term "cool" and "cool cat" I thought I'd cite my source.
The usage of cool as a general positive epithet or interjection has been part and parcel of English slang since World War II, and has even been borrowed into other languages, such as French and German. Originally this sense is a development from a Black English usage meaning "excellent, superlative," first recorded in written English in the early 1930s. Jazz musicians who used the term are responsible for its popularization during the 1940s.
cool. Dictionary.com. The American Heritage® Dictionary of the English Language, Fourth Edition. Houghton Mifflin Company, 2004. http://dictionary.reference.com/browse/cool (accessed: November 07, 2009).
Slang use for "fashionable" is 1933, originally Black English, said to have been popularized in jazz circles by tenor saxophonist Lester Young.
cool. Dictionary.com. Online Etymology Dictionary. Douglas Harper, Historian. http://dictionary.reference.com/browse/cool (accessed: November 06, 2009).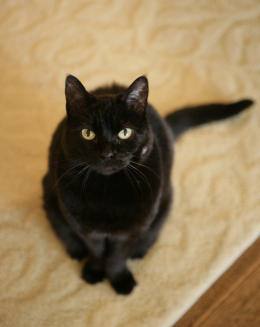 India the Cat at the White House (2006)
So, while all cats are cool cats, black cats are even cooler. If, they have cool names.

Hence, the names Cool Cat or Cool Kitty, Coolie, Cool Jazz, or even, dare I say it? Yes! Coolio.
Coolio (real name Artis Leon Ivey, Jr.), in addition to his musical talents (not in jazz, though), has appeared in a number of movies and TV shows.
More cool black cat names from the jazz world (some with double meanings of course) would include Count Basie, Duke Ellington, and the aforementioned Lester Young.
And there's also Jelly Roll Morton, Cozy Cole, Charlie Parker, and Lionel Hampton.
---
Spiders and Snakes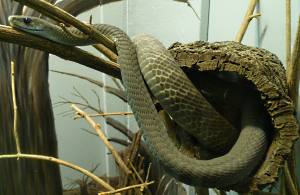 Black mamba snake at St. Louis Zoo
What about Black Widow or Tarantula (Tara) (the spiders), or Black Racer or Black Mamba (the snakes)?

Your cat will be feared by all!
Well, maybe not by the black racer reference, but certainly the spider and the black mamba.
The black mamba, by the way, is one of the deadliest snakes in the world, but it's body is not black. It's name comes from it's black mouth, which Wikipedia refers to as being "inky."
Inky, of course, is a good name for a black cat, as is India, as in India Ink.
Former President George W. Bush took some heat for having a black cat named India, although the name had nothing to do with the country. India was named after a then Texas Rangers baseball player. India (now deceased) was said to also be referred to as "Kitty" or "Willie."
---
Books, Literature, TV, Movies, and Cartoons
Many good black cat names can come from the famous characters in books, literature, TV, movies, and of course, cartoons.
Bagheera is the panther from Rudyard Kipling's The Jungle Book.
Beauty, or Black Beauty.
John Stamos played the character "Blackie" on General Hospital.
The Black Knight has any number of references, including Arthurian legend, and the comical equivalent from Monty Python and the Holy Grail.
Speaking of Knights, KITT is the black car from Knight Rider. Playing on words a bit, more black cat names emerge:
KITT becomes Kit, or Kit Kat (like the Chocolate Bar), or even Kitty (India, the former White House cat of ex-President George and former First Lady Laura Bush, was referred to as Kitty), or Kitty Cat.
Black Pete is a cartoon cat character and the nemesis of Disney's Mickey Mouse, Donald Duck, and Goofy. Pete was referred to by a number of different names, and, like many cartoon characters, underwent a transformation in appearance over the years.
He has appeared in a number of different Disney cartoon series, even as different characters, and in some he actually looks more like a dog than a cat.
Pete's full name is Percy P. Percival. In addition to Black Pete, some of Pete's alternate names include Big Pete, Big Bad Pete, and Peg-Leg Pete. He also goes by Mr. Sylvester Macaroni, Dirty Pete, and many others.
Daffy, as in Daffy Duck, who of course, is the black duck from the Looney Tunes cartoons.
Felix isn't all black (his face is white) so that name actually works better for black and white cats, but I think Felix works for an all black cat anyway (or any feline really).
Isis, from Star Trek, the original series, is Gary Seven's cat, who is later seen as a woman.
Sylvia, also from Star Trek, is the Ornithoid traveler who, with the help of a transmuter, turns herself into various forms, including a human, and a black cat. At one point, she becomes a giant black cat.
Snowball was a white cat belonging to Lisa Simpson from the Simpsons TV show who passed on. Snowball II was a black cat who is also deceased. Later, Snowball V was renamed Snowball II.
In Hocus Pocus a boy named Thackery Binx is transformed into an immortal black cat.
---
Foklore, Demons, Witches, And Familiars
Good black cat names are plentiful in the area of folklore, witchcraft, black magic, and demons. Some of these names have evolved over time and their meanings have changed based on how they've been used in literature.
Begemot (Behemoth), is the large, hand gun wielding, white bow-tie wearing demon black cat from Mikhail Bulgakov's classic Russian novel, Master and Margarita.
Various names for demons and devils, some of which have already been mentioned:
Belial
Devil
Lucifer
Mephistopheles
Satan
How about this one? Scholomance, the school in Transylvania where the Devil's secrets are taught, and the Draculas attended. I like Apocalypse and Witchcraft too.
---
Historic Figures
Speaking of the immortal, Vlad Dracula, Prince of Wallachia, is known as Vlad the Impaler. His family name was the inspiration for Count Dracula, in the novel by Bram Stoker. So, Vlad, Prince, and Count Dracula go on the list, as well as Bram Stoker.
Dracula means "Son of the dragon" (or devil), so Dragon and Devil get added to our list. See what I did there?
Nelson, Winston Churchill's black cat, was said to have his own chair at Cabinet. Then, there's Nelson Mandela if you like.
Colin Powell (the black cat) was the CFA's Cat of the Year for 2004. Former US Secretary of State Colin Powell got to meet his namesake when the cat visited the State Department.
Secretary Powell was given the opportunity to name one of Colin's offspring, a male kitten whom he named after the first black American to receive a Nobel Peace Prize, Ralph Bunche.
---
Odds And Ends
Had enough? I didn't think so.
Black Opal (another stone).
Black Angus (the cattle). Would your cat object to being named after a cow? Maybe.
Blackstone after Harry Blackstone, Sr. and Harry Blackstone, Jr. the magicians. Magicians usually wear black, including black hats, black capes, and black tuxedos. This would also be an appropriate name for a tuxedo cat.
Copperfield. Perfectly suitable for a black cat, perhaps a member of the Bombay cat breed, with copper colored eyes, after David Copperfield the magician. The Bombay is the only CFA cat breed that is only recognized in black.
Obsy after the shiny black stone, obsidian.
What about Scotty, like the black Scottish Terrier dogs? Uh oh, I said "dog."
Blackberry, as in the popular RIM phone/PDA product. Blackberry was also the name of a short-legged black cat that became the progenitor of the Munchkin cat breed.
The name "Rone" was submitted by one of our visitors with a note: "Black cat that is very fat but he's losing weight!!"
---
Black And White Cat Names
Some black kitties may have a bit of white on them, and well, are not all black (like Felix). Some good black and white cat names include Mittens for a "mitted" cat, or Holstein for a black cat that is blotched with white.
Tuxedo (or Tuxie) of course would work for a true tuxedo. For more ideas, here's a list of tuxedo cat names.
Need More?
If you need more help, more suggestions for naming your cat can be found here:
Cute cat names 
More names submitted by visitors.
Female cat names 
Monikers appropriate for female kitties.
Male cat names 
Help with naming your male cat.
Unusual cat names 
VPI's list Of unusual feline (and canine) names.
---
Photo credits: Original photo of Lilith the black cat by DrL / CC BY-SA 2.5, 
Black mamba snake at St. Louis Zoo, Original photo by Tim Vickers (Public Domain)

---