Famous Cats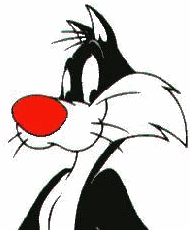 Famous cats in film, on TV, and in cartoons and commercials continue to entertain, and in some cases educate us. See if you know any of these well-known cats.
---
Morris the cat from Nine Lives Fame. Morris, the 9Lives cat was rescued from an animal shelter in Chicago right before he was to be put down. That was in 1968. Morris has educated us on the virtues of pet adoption and responsible pet ownership, sold us cat food, and kept us entertained in the process.
Felix the Cat Felix the cat is a fictional animated cat once featured in silent films. Felix has the honor of being the likeness for the first balloon used in the Macy's Thanksgiving Day Parade. Felix went to talkies but faded out. Years later, the Felix cartoons were revived with a new cast of characters.
D.C. from Disney's 1965 Film, That Darn Cat! "It takes a Siamese secret agent to unravel the PURR-fect crime!"
Fum and Gebra The real owl and the pussycat!
The Pink Panther
Sylvester from Warner Brothers Cartoon Fame. Sylvester (Sylvester J. Pussycat, Sr.) was always one of my favorite toons. Sylvester the Cat first appeared in 1945, and was created by Friz Freeling and originally voiced by Mel Blanc.
Kitty Kat, the pet lion from The Addams Family TV show.
Snagglepuss, the pink mountain lion from the Hanna-Barbera cartoons who first appeared on The Quick Draw McGraw Show. Snagglepuss was always trying to makeover his cave, but never could quite get it right. He was voiced by Daws Butler (who also voiced another cat Mr. Jinks as well as some very well-known characters like Quick Draw McGraw).
Orangey played "Cat" in Breakfast at Tiffany's and won two PATSY awards for acting. Orangey was later called Minerva, and sometimes billed as "Rhubarb the Cat."
Pinky the Cat Pinky is a cartoon tuxedo cat and host of the Pinky Show. Pinky and her friends (all house cats) discuss complex and sometimes controversial topics.
---
More Famous Cats and Cat Lovers
From Aslan to Felix to Simba to Tigger, these famous animated cats have been entertaining cat lovers for years on television and film.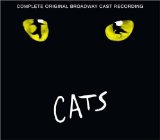 CATS The Musical
Andrew Lloyd Webber's musical play, CATS is based on a collection of nursery rhymes.
Written by T.S. Eliot, they were originally published in 1939 as Old Possum's Book of Practical Cats.

Here are some cat inspired musical compositions.
Dewey is the library cat from the Spencer Public Library in Spencer, Iowa. For 19 years, Dewey greeted library patrons at the door, slept on their laps, and provided comfort to those who needed him.
Here are some famous cats in literature that you might recognize. Cats have been a source of fascination for both writers and readers for a long time.
There have been some famous cat lovers throughout the ages. Here are just a few.
Here's a list of some famous cat quotes for your entertainment.
Cats who lived in the White House or were loved by Presidents and their families, as well as some who ran for office.
Funny cats on film.
---