Need Help Solving Cat Urine Problems?
Cat urine problems leave your house smelling bad, and you and your cat at odds. In order to resolve them, it's important to understand that there are two main types of urination problems in cats.
The first falls under what we'd call inappropriate urination, and the second is what's often referred to as spraying or marking behavior.
The causes of these two types of problems are different, and the solutions are different as well.
The first step, then, in dealing with urine problems in cats is to determine which of the two main problem types we're dealing with. Only then can you begin to solve the problem.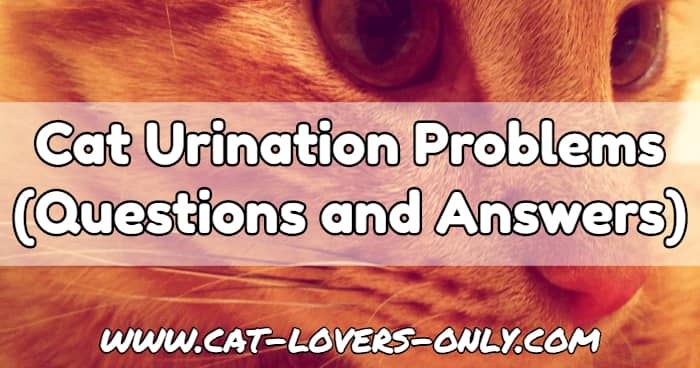 Quick Facts About Cat Urine Problems
1. Many cats will urinate outside the litter box in response to a medical problem. The problem could be related to the urinary tract, bladder, or kidneys, or it could be something completely unrelated (such as diabetes).

2. Another key factor is stress. If something is wrong in your cat's world, this can throw him or her off the box.
3. For male cats, a blockage is life threatening. If your male cat stops urinating, please seek veterinary advice as soon as possible.
4. Encourage your cat to drink more water. This is important because many cats don't drink enough and are often chronically dehydrated.
This can lead not only to urination related litter box problems, but long term, can cause kidney damage. Many cat parents report increased urine volume after switching to wet food and following simple tips, such as:
Keep food and water bowls a fair distance from each other.
Provide multiple water bowls.
Get a drinking fountain as cats tend to prefer moving water over still water.
5. Monitor your cat. You can't know what your cat's situation is unless you use clumping litter and scoop the litter box often. This will keep you on top of your cat's urine habits.
Have A Cat Urine Problem?
Is your cat urinating outside the litter box?

This is our discussion forum where you can help and be helped by other Cat Lovers Only readers!

You and others can comment, and vote on submissions so that other readers can know which solutions work most often.

Check back here in a while to see your post as submissions need to be approved. I'll do my best to get to them as soon as possible.
Urine Problems from Other Visitors
Click below to see problems posted by other visitors to this page...

---
Litter Box Problems

Cat Lovers Only