10 Good Reasons to Adopt a Cat
Marmalade and Cole show you 10 good reasons to adopt a cat.
The best reason of all, of course, is because cats are awesome.
But you know that already.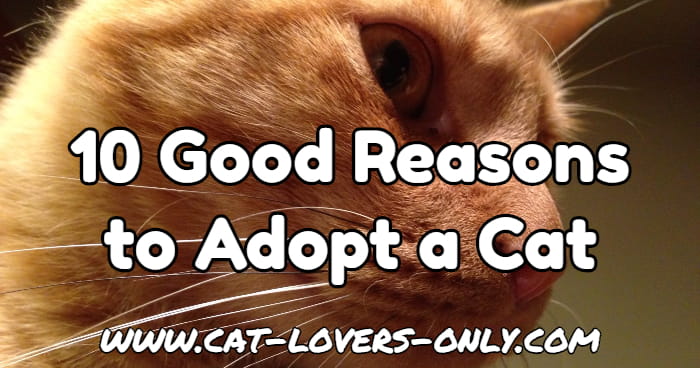 Jazzy fully endorses the 10 good reasons to adopt a cat.
It's a sad fact that each year, of the 6-8 million dogs and cats that enter shelters in the US, only about half come back out. Wouldn't it be great if we could stop euthanizing 3-4 million dogs and cats each year?
As a society, I think we can do better, but it's going to take time. In the meantime, we'll keep encouraging more adoptions.
Enough of the morbid, have a look at the video below, along with my interpretation of the 10 reasons.

10 Good Reasons to Adopt a Cat
We all have our own personal reasons why we love cats. And, if you're a cat lover, you don't need any excuses to adopt.
Still, for those who might be on the fence, or if you need help convincing a significant other to get "just one more cat," here we go...
1. You can save a life
Each cat adopted into a loving home frees up space for another cat to come into a shelter. Through the act of adopting, you've become not only an extension of those who rescue cats, but a rescuer yourself. 

2. Shelter cats are already spayed or neutered
Save a life, and save money? What could be better than that?

While there are low cost spay and neuter programs available, they're not available everywhere, and sometimes, the timing just isn't right.
It can be relatively expensive to get a cat fixed. It's also something you need to make time for, possibly taking time off of work.
And let's not forget what life is like before the procedure. Priscilla was a nut case before her spay.
Jazzy was miserable (and so was I) before he was neutered. He was howling for hours. Every. Single. Night. I was going out of my mind. Thankfully, that stopped immediately after the surgery.
The adoption fee includes, among other things, the spay and neuter fee. It also usually includes vaccinations and de-worming. Basically, you're getting all kinds of discounted vet care. Woo hoo!
Not only do you save a life, you save dough, you save time, and you save your sanity.
3. Cats are self cleaning
As the saying goes, the cat is self cleaning but the kitchen isn't. Cats rarely need a bath, which is a good thing, considering how most cats react.

4. They save you back
Health benefits of "owning" a cat (being a cat parent or guardian) include lower blood pressure and lower instance of heart disease.

5. Cats are (easily) potty trained
Unlike dogs, there's no painstaking potty training process, no gating, and no newspaper. Well, unless you're one of the unfortunate ones who has a cat with litter box problems.

Usually, though, they take to the box quickly and it's relatively smooth sailing from there. Scooping the litter box takes less than three minutes. It's a piece of cake. Litter box cake.
6. Cats are like a box of chocolates
Cats come in many colors and coat patterns. Even some breeds or breed mixes are available for adoption, sometimes from shelters, other times from pure breed rescue groups. 

7. Independent thinkers
Cats are independent and relatively low maintenance. Yeah, right. Tell that to Jazzy who follows me around the house and begs me to play with him many times a day.

8. No walkies required
Dogs love their walks and that's when they "do their business," but that makes some people say, "Ain't nobody got time for that!"

The good news for cat lovers is cats don't need no stinking walkies.
Kitties are very adaptable and make great indoor pets. They go to the bathroom indoors and they only need a few minutes of playtime each day. Unless we're talking about Jazzy, who will play with you for two hours straight.
Seriously, though, set your cat up with a few things. A laser pointer, an Ultimate Cat Scratcher Lounge, a Bird Catcher Pro, and some crumpled up junk mail. These will keep your kitty occupied and exercised.
9. You're supporting a good cause
Shelters have the welfare of the cats in mind, not profits. Saving lives is what they do.
Adopting from shelters prevents money from flowing to those who get their cats from kitty mills or so-called backyard breeders where conditions are poor.
10. You're making a difference in the world
You're part of a larger movement of rescuers and fellow adopters. Every cat adopted is one less cat on the streets (or one more cat living on easy street).

You're providing a loving home to an animal that would not otherwise have that experience. Even if we ignore the bigger picture, at least you're making a difference in the world of the cat you adopt.
Why Did You Adopt?
There are (obviously) many more than 10 reasons to adopt a cat.
Why did you (or will you) adopt and where did you (will you) get your cat from? Or better yet, why should someone else adopt?
Tell us in the comments, or tell us an adoption or rescue story like Astrid did with The Rescue of Orange and Gary.

---
Cat Rescue Groups

Cat Lovers Only