Kings Highway Cat Rescue Kitty Personals
by Diabella (Diane)
(Brooklyn, NY)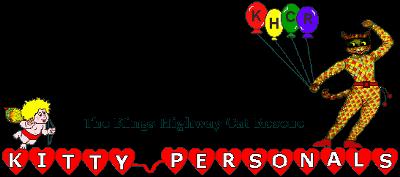 The Kings Highway Cat Rescue Banner
"Attend Kings Highway Cat Rescue's Kitty Personals featuring Tophat and his riddles and the mischievous Marvin Mouse as the cats make their debut via the Kitty Personals hoping to find homes. You'll laugh and cry as you read their personal ads and true mini stories. Your hostess, Fat Bella the tabby, is not aware that she is in for the surprise of her life!"


Website:
Kings Highway Cat Rescue Kitty Personals
I am Diane, known as Diabella on the web. Had been doing hands-on volunteer work, public relations and fund raising for Kings Highway Cat Rescue for many years and decided to create a site to further get the word out.
Over the years Diabella Loves Cats has branched out to many cat areas including cat graphics, cat entertainment, The Cat Cafe where 14 cat pages are played from a "real" nickelodeon, and so much more. But the main purpose of the site is and always will be to help Kings Highway Cat Rescue who now, due to financial reasons, have lost their rescue facility and function with the aid of a few fosterers.
Getting back to the Kitty Personals: Being extremely sensitive to the topic of strays and having a hard time creating a page of sadness, I decided to make the Kings Highway page into a "lighthearted" production while maintaining the plight of the strays. Could go on and on but the 2-page series for this rescue says it all. If I had a few wishes at the top of the list would be to see the day when each and every stray has a home, a bit of love and a full belly.
Oh, by the way... Although the page is set up like a Broadway production, all the cats on the page are really real. Bella the Fat Tabby was a favorite and she loved when I visited and shared my tuna sandwiches with her. On the other hand, the mischievous Marvin Mouse was a figment of my imagination and he was born in Paint Shop Pro.