Is Taming Feral Cats Possible?

Is taming feral cats possible? Would a feral cat make just as good a pet as, say, a purebred Persian or Maine Coon?

That depends. If they're exposed to humans at a young enough age, probably yes.
How young? The younger the better.
The story below was written by David Lemke of Spots and Stripes, Inc., his charity that works to save the lives of feral and wild cats around the world.
The story contains a lot of wisdom and a hard learned lesson on taming feral cats, but the lesson also applies to all cat owners.
This one story also answers some questions that people have about feral cat behavior, and ferals in general, including:
What is a feral cat?
Can feral cats be tamed?
Are feral cats adoptable?
I had asked David for some information on ferals that I could publish, not specifically on taming them, but I wanted to hear, from someone who does feral cat rescue, a first hand account.
Below is the story he sent me, slightly edited. Below that, you'll hear from members of our community with tips on helping feral cats near your home and even inviting them in.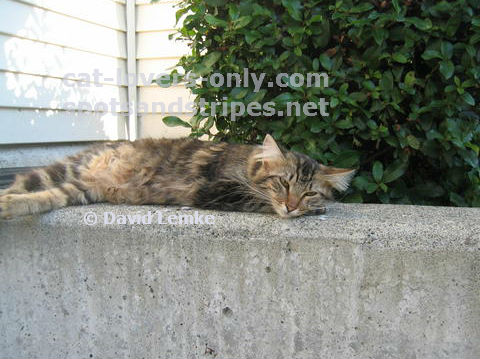 Molly

---
Molly, The Feral Cat

By David Lemke, of Spots and Stripes, Inc.
Attached is a photo of "Molly." She was so beautiful, and smart. I broke my first rule and gave her a name - something I knew would set me up for a heartbreak.
At the time, we had seven cats of our own - two ferals, two "dumps" we took in, and three Bengals who were rescues themselves.
We already had some in-fighting within our apartment, so all the bedrooms were "cat rooms" for the warring factions. There was "no room at the Inn" for another cat, especially another feral.
If only we could have found room for her, or a home with someone even semi-experienced with feral cats, I always knew I could get through to her. Six months and she could have been adoptable.
Molly was the first feral from the "Swamplands" to track us back to the building we lived in. She would wait for us to go to our car every day in the small grassy area between our building and the edge of the wetlands - her home where she was safe from humans and dogs.
The lush area was full of thick vegetation with a small creek that flooded during the winter to create a small pond and dried to a trickle barely enough to provide water for a little over two hundred feral and "dumped" cats. A road divided this swamp in two, and united both sides of the apartment complex where most of these cats originally came from.
Molly was just an adolescent female when we first met during a feeding session down by that trickle of a creek; one among many cats from different backgrounds who had formed two colonies for protection and the sharing of food.
Had she been born into the wild? Kicked out of her home for some infraction of the house rules? Escaped from her home in an adventurous moment while her human family wasn't paying attention? Or did they just move out and decide to leave her behind with the trash? I'll never know.
What I did know is she was torn between the need for love from humans many people deny cats they even care about, and her wild instincts to survive, and avoid any potential danger.
She was comfortable around Mary and I, but at an arm's length. Knowing where we parked our car, she knew she would be the first fed, and it always put a smile on my face to see her lounging under a small tree or bathing in the sunshine on the grass.
For weeks, I spent as much of my free time with her, trying to get as close to her as I could - not physically, but into her heart as she had already done to mine. Trying to find her a home, or a no-kill shelter to take her in.
We found homes for five other cats and kittens, including a mother-daughter pair. Molly almost had a home, but before she could be placed with a very nice couple, the wife found out she was not only allergic to cats, but with child herself!
The no-kill shelters were all full with kittens - adoptable kittens - and were unwilling to take Molly in knowing she was feral, something I wouldn't lie about.
As every day passed, her chances at a good home slipped away. As the work to neuter the other two hundred plus ferals in the wetlands continued, I kept putting off trapping Molly - a huge mistake that I will forever regret.
We always paid a little extra to make sure the ferals had a pain-free (if there is such a thing) spaying/neutering, and a "clean room" for them to fully recover in. (The "Master Bathroom" we never used was kept sterile, like a human hospital's operating room, to allow a safe recovery for the ferals so they wouldn't pick up an infection or get into a fight that might rip open their wound.)
History had shown me that no matter how gentle we were, nor how painless the operation went, it was usually weeks before we could rebuild the trust of those we had captured and neutered.
I was selfish. I didn't want to lose that bond we had built with Molly - not just yet.
Since she wasn't ear-tipped (a painless procedure that allows a rescuer to know immediately if a feral had already been neutered) and I couldn't be sure that if she had been someone's baby and they had been responsible and had her spayed, I should have taken her in months earlier.
I just couldn't bring myself to break our bond; afraid she wouldn't come back to that grassy patch she loved so much, and we'd become so accustomed to seeing her. I was wrong. So very, very wrong. And not a day goes by I'm not reminded of my selfishness and the price that was paid for it.
This story does not have a happy ending, you will see. Except for the promise that it will never happen again, as long as I can help it. The only "happy ending" is the lesson I learned, and I hope every rescuer and owner learns from it.
One day, Molly disappeared. We didn't see her for days, then weeks. Each time we thought "Good, she's back and okay." Nothing could have been further from the truth. The last time we saw her was the last time we would ever see her alive again.
A part of our charity's policy of caring for feral cats is to be good stewards of the land, and the property that is often owned by others who allow the cats to live undisturbed on their land. We, as a group (Spots and Stripes), always carry trash bags with us and pick up not only our own trash, but any garbage we find along the way.
An unintended consequence of neutering feral cats, feeding them, and getting them their shots and medical attention as needed, is dealing with the empty shells that once housed the souls of those same cats.
Far from "trash" we have had a long-standing arrangement with one of our supporters who has set aside a piece of her property as a "final resting place" for most of our losses.
As I moved along one of the many narrow, overgrown paths towards the water that was starting to rise as the rains had returned, under a tree in an area soon to be flooded, I was drawn to a familiar ball of fur. Still hopeful, I moved in. Those hopes were soon dashed as indeed, it was the shell of Molly, but she was long gone.
The stress of giving birth to kittens was too much for her. I had failed her, and now I hope she will be waiting for me at the "Rainbow Bridge" where some say our pets go to play and romp while waiting for us to join them one day. We laid her to rest under a tree in a special spot, just for her.
Some free-roaming cats are totally wild, and should be allowed to live in peace that way. Many are runaways or dumped, free-roaming cats that are just one loving heart away from a good home, food and a roof over their heads.
For some, it takes a lot of one-on-one work to get them to trust humans again. They all have one thing in common with your own cats: they are better off spayed and neutered than not.
One fertile female kitten can, with her offspring, give life to over 400,000 unwanted homeless cats over just a five-year period.
Mom, however, won't be around in most cases to celebrate a family reunion or her fifth birthday. The life expectancy of a feral kitten is only two to five years, with the males towards the high end and the females the short.
That same fate awaits yours if you haven't had them spayed or neutered yet, no matter how good you think you are at keeping them indoors.
The other thing these stray and feral cats have in common is they are where they are for one shared reason: we humans put them where they are.
Escaped, abused, abandoned or turned loose, it is our fault they subsist in the wild. Please, get your pets spayed or neutered and have them chipped so if someone finds them, they can find you.
When you bring your kitten home, you have made a lifetime commitment to that little life. That's usually at least twelve to fourteen years, and hopefully a lot longer. Cats can live to be twenty or more.
Yes, it can be frustrating to find your computer fan has stopped working because you didn't think to clean the filter and now it is stopped up with cat hair, or your blu-ray has stopped working because Fluffy hocked up a wet furball on it.
Maybe you should have spent a little more time brushing those long hairs.
Our babies are just that - our babies. They are all stuck at the level of a two-year-old toddler. I know you wouldn't put your child out in the cold for burping up dinner. Our babies - meaning all of us - give us so much love and ask so little in return.
My wife and I are blessed. We are loved by our children, grandchild and I'm sure, great-grandson. We are loved by our four remaining "Kitte`s" as we call them. And we are also loved by the hundreds of ferals we personally still tend to.
For as long as we can, there will never be another "Molly" who doesn't get spayed because we "have time" to do it later, and end up losing her forever.
There is always time to stroke a Kitte`, is one thing I live by. And you can always make time for your Kitte` to get him/her spayed or chipped.
---
Helping Feral Cats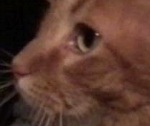 Are you interested in helping feral cats in your neighborhood by feeding them or sheltering them?
Maybe you want to invite one that's been hanging around your yard into your home?
Based on a reader's question, I tapped the CLO community and put together some advice on helping feral cats from those who have done just that.

---
Cat Rescue Groups

Cat Lovers Only