Animal Lifeline Corporation, Inc.
by Ruth
(Bellmore, NY - USA)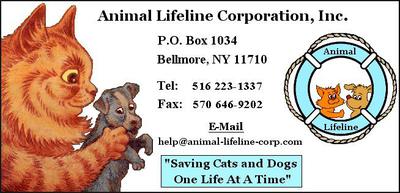 Animal Lifeline, Inc. in Bellmore, NY is a non profit, tax deductible, tax exempt, 501C3 animal rescue incorporated in 1977 for the purpose of aiding the animals in our area. Our mission is to save and home as many cats and dogs as possible.


We rescue cats and dogs from the streets and foster them until homes can be found. We are dedicated to the humane trapping, spaying/neutering, and rehabilitation of local stray cats and dogs.
We do not have a shelter and do not take cats that people no longer want. We rescue from the streets only.
Our URL is:
animallifelinecorp.com