Pasadena, TX Animal Shelter
by Volunteer
(Pasadena, TX)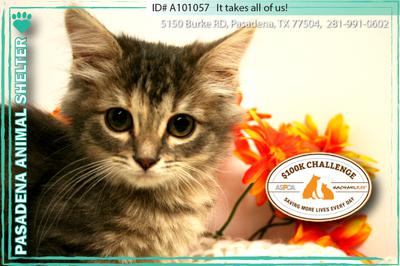 Our shelter in Pasadena, TX, is an animal control facility. I am a volunteer and my goal is to empty the cages (in a good way). I go in every week and photograph these darlings and post them to get their sweet little faces out there in the hopes that the right person will see the perfect cat or kitten and choose to adopt the little baby.


If you or any of your friends are in the Houston, Pasadena, LaPorte, Deer Park, Friendswood, Pearland, Alvin area, please share our pictures and help save these babies. Please search for
"Pasadena Shelter Cats"
on facebook and like our page to share the kitties! Thank you!