Tame A Cat Rescue
by Kim Wonacott
(Grove City , Ohio)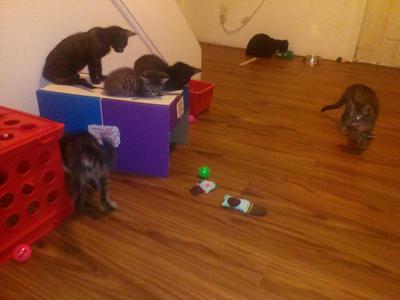 Kitten room
Tame A Cat is a no-kill animal rescue located in Grove City, Ohio. Tame-A-Cat was founded in 2008 by Kimberly Wonacott after she witnessed the sad cycle of feral cats in a local residential area.


Tame A Cat continues to trap, spay or neuter in the area. We either release or adopt out the cats, but have expanded to taking in unwanted cats and kittens and owner surrenders and finding them loving homes.
We also try to help those in the community with pets to keep the pets in the home. Whether it is lack of pet food and litter or educating owners about proper pet ownership, we try to help however we can.
We specialize in taming feral cats and preparing them for their forever homes. For now, we do what we can to help end the problem.
The cats live in a cage free environment and are treated like family pets. They are use to dogs, kids, and other cats.
We also do TNR (Trap-Neuter-Release), to help those ferals in need that we are not able to take in.
Like many rescues, we can always use help, as the pet overpopulation problem in the United States is a vast problem that still continues to grow and get worse.
For now, we do what we can to help the problem, but we cannot start to fix the problem without the help of the community. If you are looking for a new furry family member, please adopt.
Even if you do not see the perfect cat for you here, we work with many different cat rescues throughout Ohio and can help you with your search for a new forever friend!
You can check us out
on Facebook
or contact me 614 216 7730.
If you would like to adopt one of our kitties, we will ask for a vet reference. You will be asked to sign an adoption contract and then you will be able to take your new friend home.
Bring a carrier with you if you plan to adopt one of our kitties.
All we ask in return for any of our cats is the promise of a loving home and one of the following:
- 2 boxes or bags of scoopable litter
- 2 big bags of meow mix dry food
- 3 cases of canned food or
- 10 bags of baby wipes