Ralphies Retreat - Home for FeLV+ Cats in Hiram ME
by Melissa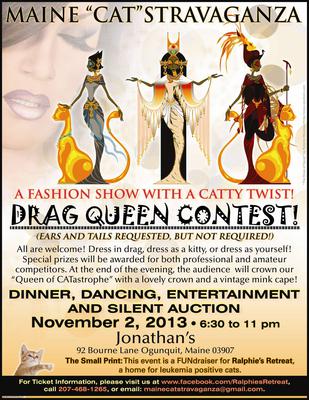 CATstravaganza Poster
We are a new shelter in Hiram, ME that provides a safe haven for cats who are FeLV+. We have a big fundraiser scheduled for November 2 in Ogunquit, ME.


It is Maine CATstravaganza, A Fashion Show with a Catty Twist. This is an evening of fun, with dinner, dancing, music, and a drag contest.
We are asking folks to help spread the word about this event. The event poster is attached. Please help spread the word, and don't forget to buy your tickets!
Go to
www.facebook.com/ralphiesretreat
and click on the Catstravaganza event.
Let your friends know by sharing the event invitation.
On behalf of Soho, Moss, Bethany, Luke, Harriet, and Malibu... and more kitties arriving soon,
Melissa Donaldson
Fundraising Coordinator
Ralphie's Retreat