Be Kind To Animals Week
Be Kind to Animals Week has been an annual American Humane event since 1915. The event celebrates and promotes animal advocacy, and includes education on shelters.
American Humane is an organization dedicated to protection children and animals, so it's not surprising that this yearly event is designed to engage children.
For 2010 (May 2 to 8), the contest theme for the celebration was "Lemonade for Shelter Aid."
According to their website:
"Lemonade for Shelter Aid encourages children to set up lemonade stands to raise money for their local animal shelters. The contest runs from April 15 to May 10, 2010, and is open to children and teens (ages 6-14). One grand-prize winner/team will be randomly selected to receive three Nintendo DS Lite game systems. Proceeds raised from the lemonade stand must be given to a local animal shelter or rescue group in order to qualify for the contest."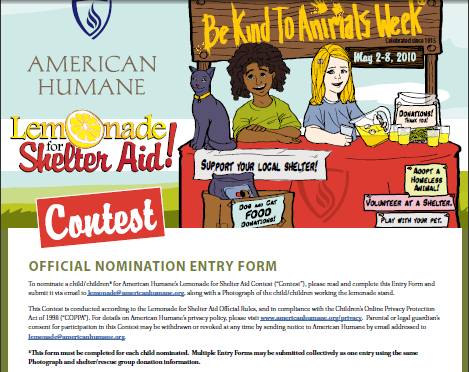 American Humane's website has a ton of information on animals, including more information on how you can contribute to the cause of animal welfare.
Outside of the annual celebration, they suggest 5 ways to be kind to animals every day:
1) Adopt a pet from a shelter or breed-specific rescue.
2) Report animal abuse.
4) Live humanely with wildlife.
5) Get active in local animal welfare policies and legislation.
Among other efforts, they also monitor animal actors and ensure that "no animals were harmed" during the production of films that bear that designation.
Do you run a shelter or rescue group? Get the word out and list your cat rescue group here. If you have a favorite shelter or rescue group, please let them know they can list their organization here.
---
Cat Rescue Groups

Cat Lovers Only