Cute Cat Names
Submitted By Visitors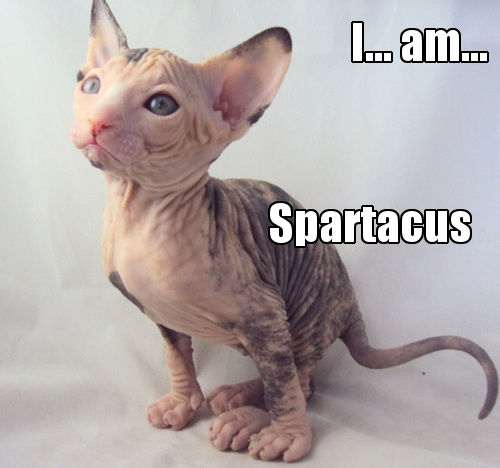 To the best of my knowledge, the cat in the picture is not named Spartacus. I just thought it would be a cute name for such an interesting looking creature.
Looking for cute names for your fur-baby? Other visitors submitted these suggestions. A big thank you to all who have submitted!
See if you can find inspiration in these for yourself. After you've named your kitty, feel free to come back and submit your own.
Some of the names here were submitted with explanation/comments, others not, and some were submitted a-nony-mousely.
Unfortunately, none of these were submitted with pictures, and while some who submitted left commentary, it's just a few lines.
So, they don't really warrant a full page. But, it's still interesting to see what others have named their cats, so I've put them in this collection. These are listed in chronological order, from oldest to newest received.
---
Name: Stitch
By: A-nony-mouse

We rescued Stitch from a tree in the middle of nowhere as a kitten. We were trying to come up with names, but we didn't really like anything. Being that he was a kitten, he was getting into a bunch of things he wasn't suppost to and broke some things.
Then one of my family members called him a little monster, so being the Disney fan I am, that sparked the idea of Stitch. He still lives up to his name by staying in trouble, but afterwards gives you a bunch of loving.

---
Name: Caius
By: A-nony-mouse
Caius (pronounce Kay-us) was a character in a book we were reading. But as he was the third cat to be added to the house and a lot more energetic than our aging cats, we assumed he'd cause a little chaos. And he did. But now the name Caius fits perfectly!
---
Name: Coco
By: A-nony-mouse
I used to have a cat named Coco, because she was very sweet, and smelled a bit like Coco Puffs. I then called her Coconut, Coco for short.
---
Name: Denzel
By: Pam
From: Bergenfield, NJ
It was a unique name.
---
Name: Casper
By: A-nony-mouse
Black cat.
---
Name: Millie
By: A-nony-mouse
---
Name: Chester
By: Callie,
From: GA
When one of our cats passed away, we got him for our other cat's company.
---
Name: Smittems
By: Christian
Smittems was a calico American Shorthair I used to call her smit then one day I came home and I found her sticking her head in an oven mitt. I thought that was funny so I put smit and mitten together and added an s.
---
Name: Baby
By: Katie
From: Sacramento, CA
She's the of the most beautiful gifts that my life has ever given me. =)
---
Name: Fender
By: A-nony-mouse
I chose it because its the name of a guitar company I use.
---
Name: Izzy
By: Briony,
From: Ayrshire, Scotland
We adopted Izzy and she was named before hand, although strangely enough we had chosen the name Izzy already!
---
Name: Rafaella Gabriella Sarsaparilla
By: A-nony-mouse
From Schoolhouse Rock. (Although there it's spelled Gabriela).
Watch on YouTube: Schoolhouse Rock: Pronouns
---
Name: Amy
By: Mary
From: Ireland
Black and white moo cat. Named After Amy Winehouse.
---
Name: Moo
By: A-nony-mouse
Her meow sounds just like a cow's "moo", especially when she is startled.
---
Name: Ozzy
By: A-nony-mouse
Our black cat, Ozzy.
"The Retarded Prince of Darkness" : )
---
Name: Moo'kie Moo Cow
By: A-nony-mouse
Our cat is super fat and has the black and white cow look thus the name Moooookie.
---
Name: Bitsy Boots
By: Learna
From: New Zealand
Well my cat is just so cute. and so is the name (:
---
Name: Baby Zane (Zaneford) -- responds to both.
By: Amber
From: Lakeland FL
All black petite shorthair... she's sassy and brassy! 8 yrs. My best buddy EVER!
---
Name: Archie
By: Scott
From: MO
We got him for Christmas from Santa, he is so sweet and I hear this breed is! [2011] a baby!
---
Name: O'Malley
By: Helen
From: IL
Named him after a bar in Champaign, IL.
Editor's note: Of course, there's Thomas O'Malley the alley cat from The Aristocats. So O'Malley is very fitting for a feline!
---
Name: Winston
By: A-nony-mouse
He has the face of Winston Churchill!
---
Name: Fang
By: A-nony-mouse
Black face with white lines from both sides of lower lip to chin, looks like fangs, my little vampire cat!
---
Name: Cookie
By: Chantelle
From: Australia
Shes a smart little cookie hence her name!
---
Name: Honey
By: A-nony-mouse
(This one just had a note that said she was a female.)
---
Name: Cayman
By: A-nony-mouse
His eyes looked blue like the Caribbean. The name was unique and fit him perfectly. He was a Himalayan cat.
---
Name: Luckey (or Lukey)
By: A-nony-mouse
My cat Lukey was born early. There were 3 but the first 2 died. Luckey was the only one alive.
---
Name: Chi Chi
By: Gina
From: NY
Kids couldn't say kitty before she was named, they said "chichi."
---
Name: Dominoe
By: A-nony-mouse
Dominoe was a seal point Siamese mix. She was stockier than a pure bred. She was accidentally injured by my father when he didn't see her upon backing up his truck one morning. Dominoe lost the leg that was crushed. She was unfazed by this, however, and resumed ruling the roost! She was a wonderful cat.
---
Name: Princess Peach
By A-nony-mouse
Princess Peach is an adorable long hair torbie that I brought home for my son. He is an avid Mario fan and he decided to name her after the princess in the games. She IS a princess and has lovely peach tones throughout her fur so the name fits!
---
Name: Snarf
By Mike from Indiana
Very pretty long hair white calico that looked like Snarf from Thunder Cats. ;)
---
Name: Duchess
By A-nony-mouse
She's a tuxedo cat that acts like she's royalty.
---
Name: Willow
By A-nony-mouse
Like the willow tree because we were two tree planters that rescued her!
---
Name: Mud
By A-nony-mouse
Mud is my brown little buddy who looks exactly like the color of mud. 
---
Name: Bubba
By A-nony-mouse
We were told 'she' was a girl. We named her Tiramisu (Tara). A couple weeks later, we noticed she was a boy. She is now he, and became Bubba Tiramisu (Bubba).
---
A few more names submitted by visitors anonymously are Keano, a hairless cat, Oreo, a loud, people-loving outside cat, and Mustacho, a kitty with a mustache.
---
Put a name on it!

Need to name your fur baby? Below are some pages with suggestions for names, and more about the naming of cats.
Black cat names
Help with naming your mysterious fur-miliar companion.
Cat names
Bow Wow Meow's 60 most popular cat names in the US.
Female cat names
Monikers appropriate for female kitties.
Male cat names
Help with naming your male cat.
Tuxedo cat names
All dressed up but no name? Try this list.
Unusual cat names
VPI's list Of unusual feline (and canine) names.
---