Tuxedo Cat Names
Tuxedo cat names often are chosen based on the look of the cat, and the resemblance of the black and white pattern to other animals or things.
Some appear to have a mask or eye patches, and resemble a raccoon or panda bear.
Others have mustaches or blotches on their faces.

Some of these kitties have blotches of black over white on their bodies that make them look like Holstein cows.
Some people will refer to any black and white cat as a tuxedo. Others reserve the term tuxedo for just those cats with specific coat patterns, especially those with white chest areas.
If you have a new tuxie at home and you're questioning what to name him or her, we have suggestions.
Below is a list of black and white cat names:
Angus (the cow)
Bandit
Bow Tie
BW (Black and White)
Cuff Link
Cumber Bun (Bunny)
Figaro (The name Figaro was submitted by Shelly)
Holstein (the cow)
Lovely (The name Lovely was submitted by Emma)
Mask
Mustache (Stache)
Opera
Oreo (Oreo was added to our list when this cat memorial to Oreo was submitted by a reader)
Raccoon
Smudge
Snowcap
Wing Tip
For black and white cats specifically with white paws/legs: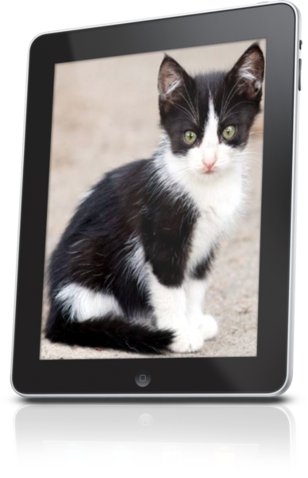 And then, of course, there's Chloe, our site mascot here at Cat Lovers Only. Attractive as she is, though, Chloe wasn't named for her good looks.
If you have a suggestion for a name, for any color, coat pattern, breed, or kind of cat, please add to our list. With your help, we're building the largest online list of cat and kitten names.
View cat and kitten names already submitted
Want to See the Largest List of Cat Names Ever?
Then you're gonna have to help build it! Just answer the simple question:

What's your cat's name?

We'll collect all the names and publish them until we have the largest collection of names that we know of. Also include the following information so that we can properly categorize the name.

What color and coat pattern is your cat? (Examples: solid white | red tabby)

Why or how did you chose the name, or was the name chosen for you?

Upload a picture of your cat, and optionally, share a cute or funny story about your cat and any other details as well if you like.
List Of Cat Names
Click on the links below to see the names submitted.

---
More About Cat Names
Below are some pages with suggestions for names, and more about the naming of cats.
Black cat names
Help with naming your mysterious fur-miliar companion.
Cat names
Bow Wow Meow's 60 most popular cat names in the US.
Cute cat names
More names submitted by visitors.
Female cat names
Monikers appropriate for female kitties.
Male cat names
Help with naming your male cat.
Unusual cat names
VPI's list Of unusual feline (and canine) names.
---