Cat Names
Here are some cat names to assist you in naming your cat. This all important process should not be taken lightly. After all, names are for life, and both you and your cat will have to live with your choice.
It's been said that a cat that does not like its name will not respond to it.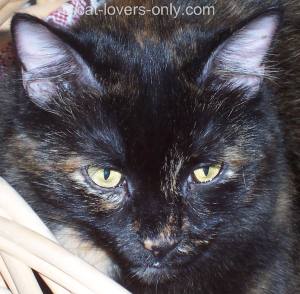 Whether that's true or not, I recommend that you see my suggestions on how to choose kitten names as well as how to teach your cat to respond.

Frankie, pictured left, was named after Julianne Phillips' character Francesca 'Frankie' Reed Margolis, from the TV show Sisters.
She knows her name and comes when called, although an ice cube for her to play with brings her running as well. Here are more suggestions for good homemade cat toys.
---
The Top 60 Most Popular Cat Names (US)
Tigger
Tiger
Max
Smokey
Sam
Kitty
Sassy
Shadow
Simba
Patch
Lucky
Misty
Sammy
Princess
Oreo
Samantha
Charlie
Boots
Oliver
Lucy
Precious
Missy
Oscar
Fluffy
Whiskers
Gizmo
Taz
Molly
Midnight
Buddy
Baby
Toby
Spike
Sophie
Rusty
Pumpkin
Jake
Alex
Maggie
Callie
Buster
Sylvester
Rocky
Pepper
Milo
Daisy
Cleo
Chloe
Angel
Dusty
Bailey
Mittens
Casey
Socks
Snowball
Simon
Sebastian
Scooter
Nala
George
This list is according to data compiled by Bow Wow Meow's pet identification tag business. The first 20 of these correspond exactly to the list of the top 20 most popular feline names in the US as listed in the book For the Love of Cats (more cat books).
Do you know the longest name ever bestowed upon a feline?

The Most Noble the Archduke, Rumpelstizchen, Marquis Macbum, Earle Tomemange, Baron Raticide, Waowler, and Skaratchi.
Although there may be some longer ones from breeders that include the cattery name, that's the name English poet Robert Southey (1774 - 1843) gave to his cat. He called him Rumpel for short.
Two other pages you might want to look at with a few more lists and suggestions for naming cats. The first for female kitty names, and the second for male cats.
---