Cat Names
Here are some cat names to assist you in naming your cat. This all important process should not be taken lightly. After all, names are for life, and both you and your cat will have to live with your choice.
It's been said that a cat that does not like its name will not respond to it.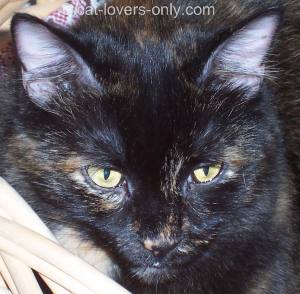 Frankie
Whether that's true or not, I recommend that you see my suggestions on how to choose kitten names.
In addition to including information on how to teach your cat to respond to his or her name, there are also some naming "rules" listed there. Go check them out.
They're more like guidelines than rules, and you can break them, but you've got to know what they are, first.

Frankie was named after Julianne Phillips' character Francesca 'Frankie' Reed Margolis, from the TV show Sisters.
She knows her name and comes when called, although an ice cube for her to play with brings her running as well. Speaking of play, here are some more suggestions for good homemade cat toys. On to our list...
---
The Top 60 Most Popular Cat Names (US)
If you're wondering what others have called their kitties, wonder no more.
Some cat parents choose names based on their cat's purrsonality. Others use the names of famous people, favorite movie stars, candies, fruit, and so on.
Some feline fanatics, however, like to use popular names. On that note, I bring you the following list:
Tigger
Tiger
Max
Smokey
Sam
Kitty
Sassy
Shadow
Simba
Patch
Lucky
Misty
Sammy
Princess
Oreo
Samantha
Charlie
Boots
Oliver
Lucy
Precious
Missy
Oscar
Fluffy
Whiskers
Gizmo
Taz
Molly
Midnight
Buddy
Baby
Toby
Spike
Sophie
Rusty
Pumpkin
Jake
Alex
Maggie
Callie
Buster
Sylvester
Rocky
Pepper
Milo
Daisy
Cleo
Chloe
Angel
Dusty
Bailey
Mittens
Casey
Socks
Snowball
Simon
Sebastian
Scooter
Nala
George
This list is according to data compiled by Bow Wow Meow's pet identification tag business. The first 20 of these correspond exactly to the list of the top 20 most popular feline names in the US as listed in the book For the Love of Cats (more cat books).

If the above list doesn't inspire you, I've got a longer list below. But first...

The Longest Name
Do you know the longest name ever bestowed upon a feline?

The Most Noble the Archduke, Rumpelstizchen, Marquis Macbum, Earle Tomemange, Baron Raticide, Waowler, and Skaratchi.
Although there may be some longer ones from breeders that include the cattery name, that's the name English poet Robert Southey (1774 - 1843) gave to his cat. He called him Rumpel for short, which I'm sure the cat appreciated.
That full name is a mouthful, and I'm sure an earful for a cat as well. Shorter monikers are easier for our feline friends, of course.
But, will your cat respond to the name you choose? Or will your kitty ignore you, and never return your calls?
It turns out there may be a trick to getting your cat to respond well to the name you've chosen, and it has to do with the sound of the letter "e."

450+ Cat Names Ending in the "ee" Sound
Some experts say cats respond well to names that end in an "ee" sound. Because of that, some people will choose a name that ends in ee, ie, y, ey, and so on.
As I see it, you've got several choices for naming with an "ee" ending:
You can take a name that doesn't end in "ee" and make it so. Jack becomes Jackie, Hans becomes Hansie, etc.
Shorten the name or use a nickname and add the "ee" sound. Jacqueline becomes Jackie, Richard becomes Richie, etc.
You can go with a name that already ends in that sound, or make one up.
For inspiration, below is a list of over 400 cat names that end in an "ee" sound. Some work better for boy cats, others for girls, and some are unisex and can go either way.
Abbie
Abby
Abie
Adaleigh
Adalie
Addy
Aimee
Ainsley
Alcyone
Alfie
Ali
Aldi
Alley
Allie
Ally
Amalie
Amberleigh
Amberlie
Amberly
Amelie
Amery
Amie
Amity
Amy
Anastasie
Andy
Angeli
Ani
Annie
Ann Marie
Aphrodite
Araceli
Aracely
Ariadne
Ashley
Aubree
Aubreigh
Aubrey
Audrey
Avani
Avery
Azelie
Baby
Bailey
Baylee
Beesley
Bellamy
Benji
Benny
Bentley
Berkeley
Berri
Berry
Bethany
Betony
Billie
Billy
Bitsie
Bitzy
Blackie
Bluey
Bobbie
Bobby
Bonnie
Bosley
Brainie
Brandi
Brandy
Brenley
Brickly
Brimley
Brinley
Briony
Britney
Brittany
Brownie
Brylie
Brynlee
Bryony
Buddy
Buffy
Calamity
Calanthe
Cali
Callie
Calliope
Candy
Carlee
Carly
Carrie
Casey
Cassidy
Cassie
Cecily
Charity
Charley
Charlie
Chastity
Chelsea
Cheri
Cherry
Chimney
Chloe
Chrissie
Chrissy

Christy
Chrysanthe
Chubby
Cicely
Cody
Connie
Coralie
Cori
Courtney
Cozie
Cupie
Curly
Cutesy
Cutie
Cuty
Daisy
Dani
Daphne
Darby
Darcy
Debby
DeeDee
Delaney
Dinky
Dolly
Dorothy
Duckie
Duey
Duffy
Dulcie
Edie
Effie
Eleni
Ellery
Ellie
Elodie
Elsie
Emelie
Emery
Emily
Emme
Emmy
Emree
Epiphany
Eulalie
Euphemie
Euphrasie
Evanthe
Evie
Faerie
Fanny
Felicity
Fizzy
Floppy
Fluffy
Frankie
Freddie
Freddy
Furry
Fury
Fuzzie
Fuzzy
Gabby
Gerri
Gerry
Gibby
Gigi
Glitzy
Goldie
Gracie
Graylee
Gregory
Hadley
Hailey
Haily
Haley
Halley
Halli
Hallie
Hanneli
Harley
Harmony
Harry
Hattie
Hayley
Heidi
Henry
Hewey
Hillary
Holly
Honesty
Honey
Hoppy
Howie
Huffy
Ianthe
Idony
Iggy
Ione
Ismene
Ivy
Izzy
Jacee
Jackie
Janey
Javi
Jaycee
Jazzy
Jeni
Jenny
Jeremy
Jerri
Jerry
Jessamy
Jessie
Jimmy
Jody
Joey
Johnnie
Jonesie
Jonesy
Jonie
Josie
Julie
Junie
Kacey
Kandi
Kandy
Karlee
Katie
Katty
Katy
Kaylee
Kayley
Kayli
Keeley
Kelly
Kelsey
Kenley
Kennedy
Kenzie
Kiki
Kiley
Kimmie
Kinley
Kinsley
Kirbi
Kitty
Kiwi
Krissy

Kylie
Kynslie
Lacey
Laci
Lacy
Lady
Laney
Lani
Lari
Lassie
Laylee
Laynie
Lee
Leigh
Leilani
Leonie
Lesley
Leslie
Lestari
Lexie
Lexy
Libby
Liberty
Libi
Lilley
Lilly
Lily
Lily 
Lindsey
Livy
Lizzie
Lollie
Lolly
Loni
Lori
Louey
Louie
Luci
Lucky
Lucy
Luffy
Macee
Macy
Maddie
Maile
Magee
Maggie
Maisie
Makee
Mallory
Mandy
Marcy
Mari
Marie
Marjorie
Marley
Marney
Marti
Marty
Mary
Mattie
Matty
Maury
Maxi
Maxie
Maxy
Maycee
Maylee
McKenzie
McKinley
Melanie
Melodie

Melody
Melonie
Mellie
Melly
Memorie
Merci
Mercy
Meri
Merry
Mickey
Mikey
Miki
Mikie
Milee
Miley
Millie
Milly
Mimi
Minnie
Miri

Missy
Misty
Mitzi
Mochey
Molly
Molly 
Muffy
Myleigh
Nancy
Naomi
Natalie
Nathalie
Nayeli
Nelly
Nibbie
Nickie
Nicky
Nikki
Ninjee
Noemi
Noemie
Oakley
O'Malley
Onie
Onnie
Ophelie
Otillie
Paisley
Parthenope
Patti
Patty
PeeWee
Penelope
Penny
Peony
Peppy
Pepsi
Perci
Percy
Peri
Perrigee
Perry
Persephone
Persie
Petey
Petry
Phoebe
Pippi
Pippie
Pippy
Poesy
Pokey
Polly
Poppy
Posey
Posy
Presley
Puffy
Purry
Quincy
Rami
Randi
Randy
Razili
Renley
Ressie
Ridley
Riley
Ripley
Robbie
Robby
Romilly
Romy
Roni
Ronnie
Ronny
Rosalie
Rosemary
Rosey
Rosie
Ruby
Ruffy
Rusty
Rylee
Sadie
Sallie
Sally
Sammy
Sandy
Scoobie
Serenity
Shaedi
Shaylee
Shelby
Shelly
Sherri
Sherry
Shimmy
Shirley
Siddalee
Sidney
Sidony
Silly
Simee
Skiddy
Skitty
Slinkie
Smokey
Smokie
Snowy
Sofi
Sofie
Sonny
Sophie
Spanky
Stacey
Stephanie
Stormy
Stripey
Sunny
Susie
Sweetie
Sweety
Sydney
Sylvie
Tali
Tamalie
Tandy
Tansy
Tawny
Teddy
Teeny
Tenley
Thandie
Tilly
Timmie
Timmy
Timothy
Tiny
Toni
Tony
Topsy
Tori
Tricksy
Trinity
Trixie
Trixy
Tuffy
Tullee
Tully
Twiggy
Valerie
Valkryie
Verity
Vicki
Vicky
Vikki
Vivi
Wendy
Wesley
Whitley
Whitney
Wiki
Willie
Windi
Windy
Winkie
Winnie
Xanthe
Xavi
Xenni
Zachary
Zelie
Zenny
Zeusy
Zoe
Zoey
Zuffy
If you're after something different for your kitty's moniker, this list of unusual cat names from the "wackiest" pet names list may be just the thing to inspire you.
More Resources
More lists and suggestions for naming cats:

---