Cat Name Casimir
by judith
(clarksville,tenn,montgomery)
Black cat with white tanga. A black coat like silk.


Editor's note: The name Casimir has a rich history in Poland and other parts of Europe. According to Wikipedia, it's an English, French, and Latin form of the
Polish name Kazimierz
(kazic means "to destroy" and mir is "peace, prestige, world").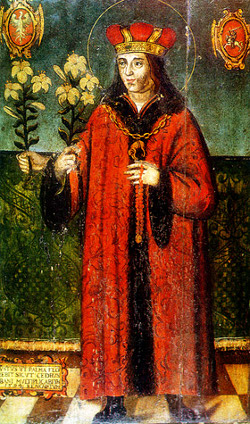 Saint Casimir (1458–1484) patron saint of Lithuania and Poland
The meaning of the name is "destroyer of peace" or something similar, while some interpret it as "peacemaker."
The name was
popular as a baby name
(among humans, I have no information from the feline population) in the US in the early 1900s.
The name, or its variant, has been bestowed upon
Four Polish Kings
, European poets and writers, politicians and a Prime Minister of France. The name also has variants in Czech, German, Swedish, Spanish and a number of other languages.
A Polish biochemist by the name of Casimir Funk is often credited with discovering vitamins and used the term "vitamines" (vital amines). A Japanese scientist with a well-known last name, Suzuki, actually made the discovery two years earlier.
Kazimierz Kord is a Polish conductor and was the Music Director of the Warsaw Philharmonic Orchestra.
The name may also be a surname. Hendrik Casimir, for example, was a Dutch physicist, for which the term "Casimir effect" was named.
Casimir Pulaski was a Polish born American Revolutionary War hero, and was made an honorary United States citizen. He has some holidays dedicated to him.
General Pulaski Memorial Day is a US holiday in his honor, held on October 11. In the state of Illinois, the first Monday in March is celebrated as Casimir Pulaski Day (a separate holiday from the Federal one in October).
There's also a book called
Me and Clara and Casimir the Cat
by Dimiter Inkiow, Traudl Reiner and Walter Reiner.
For girl cats, the name would be Casimira or Kazimiera.
Image credit: Public domain from
Wikimedia Commons Saint Casimir