Submit Your Cat Food Reviews
Submit your cat food reviews and help other cat lovers to make better choices in feeding their cats. The more opinions and experiences we collect, the better for us all.
In a hurry? No time to submit a review? Take our polls instead.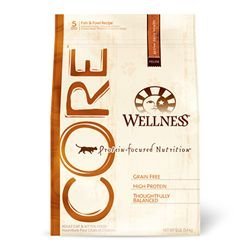 Feeding is an extremely important topic, of course, and it always helps to hear the experiences of others. What to feed your kitty is perhaps the most important health choice that we make for our cats.
This is your chance to help us create a valuable knowledge and opinion base for cat food information... for cat lovers, by cat lovers. So, don't hold back -- let us know your choice!
Have you done your homework and have a brand (or three) that you prefer the quality of? Share your top picks for best cat food.
Or, perhaps your vet has recommended a specific brand for your cat? Let us know!
Or, maybe you have a story about a health transformation through a change in diet, such as feeding your cat a raw diet like this visitor.
Maybe you've found the perfect combination of canned and dry, or your own home made recipe. Is your cat a picky eater or seem to enjoy any food you feed? Tell us about any and all of the above.
What's Your Top Pick For Best Cat Food?
Has your cat secretly been eating the best cat food? Have a cat food that's worked well for you that you're keeping to yourself? Have a favorite homemade recipe?

Share your story, tip, recipe or review of your choice for the best cat food with other cat lovers. Please describe why you like this food.

If your top pick is one of the ones already recommended or reviewed on this site, that's fine. Inquiring cat lovers want to know your opinion!
Read Other Best Cat Food Reviews
Click on the links below to see some great reviews on the best cat food available. They were all written by other visitors to this page.

Orijen dry cat food over Fancy Feast Not rated yet
This is the only dry food, other than Fancy Feast, that my cat will go near. My vet told me I need to find a food with more protein than Fancy Feast.
---
Cat Food Polls
In a hurry? No time to submit a review? Take our polls instead (you can come back here when you have more time and give us your review):
Please take both polls as each one has an "I don't feed..." selection and I'd like to get an idea of how many people don't feed a particular type at all.
---