The Aristocats Special Edition DVD Review
As cats go, The Aristocats are quite a different animal. From early on in the movie, you can plainly see that these are no ordinary cats. From their uncommon relationship with Roquefort the mouse, to Toulouse's painting and the whole gang practicing their "scales and arpeggios."

Of course we could have guessed this during the opening credits of the movie, with the lyrics of the title song...

"Which pets are known
to never show their claws
Which pets are prone,
to hardly any flaws?
To which pets do the others tip their hats?
Naturellement
The Aristocats"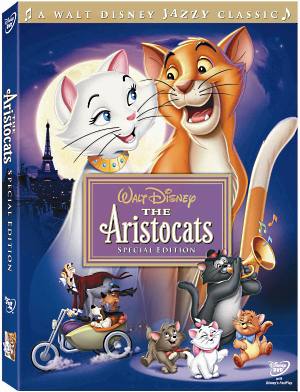 As for the movie itself, well, it's classic Disney of course. I have always loved this movie, and with the new digitally enhanced picture and sound, it's great to be able to watch it in DVD quality on a wide screen plasma TV.
I also watched the movie and played with the bonus features on my computer, but I could have done this on my DVD player as well.
The scene is set in Paris, France in 1910. A millionairess has, as her only family, her cat Duchess, and her three kittens, Berlioz, Marie, and Toulouse.
She decides to draft her will so that her estate will pass to her cats. This infuriates Edgar, the bumbling butler, who decides to catnap the cats. Mayhem ensues, and it's then up to Thomas O'Malley and his resourceful band of alley cats to help save the day.
Somehow, Disney manages to combine a catnap caper complete with a chase scene, a love story, a musical comedy, and an adventure piece and roll it seamlessly into an animated film with endearing characters that stir real emotion.
Of course, you'll recognize the voices of Eva Gabor, Phil Harris, and the ubiquitous Sterling Holloway. If nothing else, you'll want to own this one as it is the last film that Walt Disney put into production himself. You can read more in the press release.
I won't give away the movie, but here are some highlights...
Along the way, we watch the cats play chicken with a train, and encounter some bumbling dogs. We meet a couple of "proper" British geese, and we learn that they have "rubber feet." We also meet Thomas O'Malley the alley cat, who takes it upon himself to look out for Duchess and the kittens.
O'Malley has a fun bunch of alley cat friends, who really know how to play some jazz. Not that this is unexpected, but this is truly a fun movie, especially if you're a cat lover.
In typical Disney fashion, the detail is amazing, including the woodgrain in the railroad ties, the texture on brick and tile, and the shadows and nuances of color. They also throw in all the usual cat behaviors of self-grooming, hair standing on end, and a bit of a dislike for getting wet.
The movie is great, but it might just be the the bonus features on this DVD that keep your family most entertained and occupied.

---
Video Clip
Click here to watch a video clip of the cats in action.
---
Bonus Features
The Aristocats Special Edition DVD Bonus Features include a deleted song and scene that was never used in the movie, music selections from the movie, games and activities, Backstage Disney, and a bonus short cartoon of Figaro the cat getting a bath.

| | |
| --- | --- |
| Deleted Song | A song scene that was never used in the movie, called "She Never Felt Alone." |
| Music and More | The Disney song selection allows you to play the songs (with lyrics) from The Aristocats. |
| Games and Activities | Play Disney Virtual Kitten and adopt a cat, or play The Aristocats Fun with Language Game. |
| Backstage Disney | An Interview with the song writers, a scrapbook, and a film about the house cat. |
| Bonus Short - Bath Day | Cartoon featuring Figaro getting a bath. |
---
Here are some highlights concerning some of the bonus features on this DVD.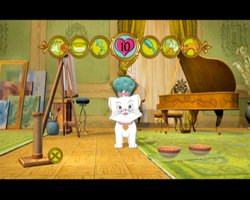 Games and Activities

The games and activities section features The Aristocats Fun With Language Game and Disney Virtual Kitten, where you can adopt, play with, and care for your own virtual pet cat.
Backstage Disney

The bonus features include a section called Backstage Disney which features an excerpt from The Great Cat Family. It originally aired in September of 1956 and is narrated by Walt Disney.
After an introduction by Walt Disney himself, this video includes a history of the domestic cat depicted in an animated film. From here, we get this great cat quote:
"But it still remains the question as to whether man adopted the cat, or the cat adopted man."
-Walt Disney
This section also includes The Aristocats Scrapbook which includes depictions of exploratory drawings and behind the scenes photos.
It also includes publicity creatives, storyboard sketches, and pictures of the 1970 Los Angeles Premiere. Having no talent for drawing, it's always fascinating to me how these movies go from concept to celluloid, or in this case, to DVD. I really enjoy seeing some of the behind the scenes stuff.
There's also a section with an interview with the Academy Award winning Sherman Brothers, who wrote songs for this and other Disney movies. Here we learn that Maurice Chevalier actually came out of retirement to sing the title song.
Music and More
In this section, you can choose to play the song scenes from the movie, and also have the lyrics on screen if you like. From the title song, The Aristocats sung by Maurice chevalier, all the way to the jazz free-for-all with a bunch of swinging alley cats and Duchess and her kittens joining in on "Ev'rybody Wants to Be a Cat" every song is fun.

---
All in all, a very impressive DVD and lots and lots of Disney fun!

This DVD is available now at Amazon!
---
Fun Cat Stuff

Cat Lover Products

Cat Lovers Only