The Outdoor Cat House: Providing Kitties with Shelter from the Elements
An outdoor cat house can give your cat a den-like experience and the feeling of safety while enjoying time outside. Some of them are heated for comfort in cold weather, or you can put heated beds inside.
Some people buy or build them to help stray or feral cats that need protection from harsh winters or predators.
If you're not familiar with the concept, think of it like a dog house for cats. Of course, since it's for a cat, it's bound to be much more stylish.

On a somewhat related note, there are also larger outdoor cat enclosures that you can buy or build.
Outdoor Cat House vs. Outdoor Cat Enclosure
So what's the difference between the two?
Cat houses are box-like structures designed to give outdoor cats a "home base" of sorts, and protection from potential predators and the elements.
Outdoor cat enclosures, on the other hand, are meant to give indoor cats a safe way to get a taste of the outdoors. Rather than being box-like and closed, they're more cage-like and open to the elements.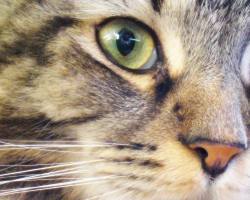 You could, of course, set up an outdoor enclosure and place a cat house inside it, giving a cat the best of both worlds.

You can either buy outdoor cat houses, set about building a cat house yourself, or have one built for you.
If you want to build your own (or have one built), there are a number of places to get the plans.
You could, of course, just build a box, put a heated cat bed in it, and there you have it. But, that doesn't sound like nearly as much fun as getting some of the products I've seen.
(I'll update the site with more pre-built products, as well as places to get plans to build your own cat house as I run across them).
Some of the models are modern and tubular in shape, and others are designed like miniature log cabins. Some have insulation kits available, and may have a heated option.
Or, you can get your own outdoor electric heated pet pads. Just make sure you set it up so that it's protected from water, and get one for outdoor use.
---
Products
There are a number of cat house products that you can buy, some of which require assembly. Below are a few options, including the KatKabin, a cedar duplex model, and the Omega Paw Cozy Kingdom.
No matter which model you choose, ensure that your cat is protected from predators, parasites, and the weather while outside.
Outdoor Heated Pads
Heated cat houses may use insulation in combination with a heat source, or just a heat source. If your model doesn't offer this, you can get a heated pad to go with your cat house.
---
Outdoor Cat Enclosures
Cat enclosures are larger than cat houses, and are designed to give your indoor cat a taste of the outdoors while remaining safe and secure.
Some of these are rigid structures and attach to the house. Others, like the Feline Outdoor Fun House, can be moved around and even transported to use while away from home.
Here's more on outdoor cat enclosures.
---
Cat Lover Products

Cat Lovers Only