Outdoor Cat Enclosures Help Keep Your Cat Safe Outside
Outdoor cat enclosures allow your cat to play, rest, and experience life outside in safety.
These enclosed cat pens can be made out of various materials, and take a number of different sizes and shapes.
There are various outdoor containment and confinement systems for cats.
These range from simple mesh netting to more complex fence systems to elaborate outdoor cat enclosures with glass roofs, cat perches, and scratching posts built in.
Some people buy pre-fabricated ones, others buy plans and build them, and still others hire people to build one for them.

They're sometimes referred to as catios (an enclosed patio for cats). Although this description is often reserved for structures attached to the house at ground level, it's sometimes applied to any enclosure.

Some people refer to them as cat pens, and long, narrow enclosures are often called cat runs. 
Here's a stylish custom made catio...
So, why would you want one?

On average, indoor cats live many times longer than outdoor cats. According to many experts,  the top two recommendations for the prevention of cat illnesses and prolonging a cat's life are keeping your cat indoors, and vaccinations.
These are recommendations explicitly stated by the Humane Society of the United States, and stated in various ways, directly or indirectly, by other organizations that support the welfare of house cats.
With a containment system, your cat can enjoy the outdoors without any of the dangers, such as:
Risk of injury due to predators
Hostile cats
Hostile humans
Getting hit by a car
Contracting fatal or debilitating diseases
You can buy ready-made or ready to assemble products (kits), or build enclosures yourself. They can be as simple as an open top fence system, such as Purrfect fence, or as complex as a fully enclosed maze of cat runs and cage-type enclosures.
Here's a fully custom built outdoor cat enclosure, with a window frame exit and a cat run, leading to an outside cat play area. How fun!

Custom Built Cat Enclosures
Outdoor cat enclosures can take many forms, especially the custom built ones. Some are made of wood frame or poles with chicken wire, and some are metal frame with fencing.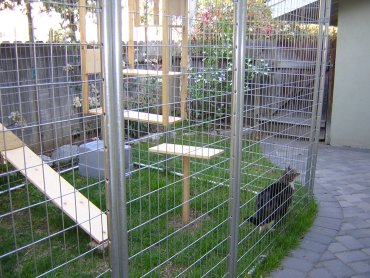 Some cat owners attach their enclosures directly to the house, and others use cat runs to allow the cats access to a contained area some distance away. You could also do a combination of both.

Perches, sleeping areas, exercise wheels, ramps, cat trees (outdoor compatible of course), and various cat walks and obstacle courses can be set up to give your cat an interesting area to spend time in.
You can place an outdoor cat house inside (or adjacent to) the enclosure as well. Many cat owners have gotten very creative with their designs.
The following page has photos of cat enclosures (some rather elaborate). If you're planning on building your own outdoor enclosure, you'll certainly get some ideas from here.
You might also get some ideas from looking at pictures of the catarium. It's a custom built outdoor enclosure made out of stone, wood, and special mesh netting.
You can get custom designed metal enclosures from CD & E.
For an amazing cat rescue story (many of them, actually), more resources, and an example of a custom cat enclosure, have a look at Sally's Cat House.
Or check out this monstrosity... #catgoals
Products And Cat Enclosure Kits

The Cat Window Veranda, offered by pet store Drs. Foster and Smith, is probably one of the simplest ideas in outdoor cat enclosures.
It allows your cat a balcony of sorts outside of a window, accessed via a cat door.
Below are some places to get enclosures and kits.
The C & D Pets enclosure kit is made from solid redwood and galvanized steel wire (cat or kitten - sized wire spacing available). Three sided unit attaches directly to your house, or get a fourth side for a free-standing unit.
Habitat Haven has a number of different cat enclosure kits.
Safe Kitty offers a 6 x 6 x 6 expandable enclosure (order more panels to add to it). It's made from Maine white cedar and galvanized wire.
Order SunCATcher from Cages By Design.
More Ideas And Plans For Outdoor Cat Enclosures
If you're the do-it-yourself type, you might want to build a custom enclosure or pet house. If you want something customized, but are not into the do-it-yourself method, you might want to have one built for you.
On that note, here are some more sites with ideas and plans. If you need help getting started, you can start with plans and add on from there. There are a number of places to get the plans, and I've listed a few below.
Here are some photos of customer built projects using the plans from Just4Cats and the SafeCat enclosure.
Photos and Ideas
Complete with trees and a bird house? Yep, this is an outdoor kitty paradise. Update: The original cat enclosure at this link was torn down, and the area has been repurposed, but there is a picture of the original, along with the story behind it, on that page. 
Speaking of kitty paradise, here's an amazing enclosure for felines and people alike with a pond, a waterfall, and a bridge.
That site used to be on a .com domain and had more extensive information and pictures on their enclosure. You can view the archive here.
More Resources
The Feline Friends Network (formerly the Stanford Cat Network) has information and links on enclosures.
Enclosed gardens and fence systems.
Portable Outdoor Cat Enclosures
Most enclosures are relatively heavy, permanent structures. Some, like the Feline Outdoor Fun House and Kittywalk Pet Gazebo, however, can be easily put up and taken down, similar to tents. They are portable and can even be transported to use while away from home.

There's also the Kritter Kondo which is ideal for balconies and porches.
Keep in mind that while these types of products keep your cat from wandering off, they may not keep your cat safe from predators. A coyote could probably bite right into your cat through a soft mesh material.
I wouldn't place my cat outside in a soft enclosure that she could not escape from without constant supervision.

Cat Fence Systems
Note: Although a cat fence system isn't really an enclosure per se, it does have a similar purpose in terms of acting as containment area. Purrfect Fence (or other cat fence or netting options) may keep your cat from escaping from your property, but may not keep predators, hostile cats or other animals out of your yard.
In addition, some cats will find a way to escape unless fully contained (cat fences, by nature, have no roof). Consider this carefully when designing your plan. (More about the Purrfect Fence cat containment system can be found at their website).
---
Cat Lover Products

Cat Lovers Only