Meet Matilda The Ragdoll Cat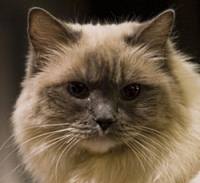 Matilda the
Ragdoll cat
is the famous resident feline at The Algonquin, the historic hotel in New York City.
Update: Matilda II has retired, and there's a new Algonquin Cat in the house!
In addition to being a beautiful addition to the lobby and the entire hotel, of course, she eagerly welcomes guests with open paws.
Sometimes referred to as "The Algonquin Cat" she's part goodwill ambassador, part hotel animal attraction, and part historical figure.
She has an important and difficult job, greeting the many guests from around the world, some of whom stay there, in part because of her. Matilda uses her feline style and grace to make guests feel at home.
The Algonquin Hotel has a rich literary and theatrical history. The hotel opened in 1902, and has had a cat in residence since the 1930s, when then owner Frank Case gave a stray a place to call home.
Cats have often been linked with creative people, especially writers, including Twain, Hemingway, Dickens, and Poe, to name a few. So, it's befitting that a hotel attracting literary types have a cat around.
It's said that thanks to John Barrymore, the male cats have all been named Hamlet. The females have all been named Matilda, but no one seems to know where the idea for that name came from. If Matilda knows, she's not telling.
Matilda is the ninth cat in residence at the hotel, but the very first pedigreed cat to have the honor.
All the rest have been rescues. The honor, of course, is all ours, and for guests, it's a privilege to have Matilda there.
It's a lot to live up to, but this fluffy Ragdoll takes her fame and good fortune all in feline stride.
Someone was foolish enough to steal her collar once during the "Algonquin Cat-Burglary" fiasco. That's kind of like stealing Carlos Santana's guitar, or Dizzy Gillespie's trumpet. Sacrilege!
As with most famous cats, Matilda's story has been written up many times, and she appears on the cover of a children's book, aptly titled The Algonquin Cat. She was awarded "Cat of the Year" in 2006 by the Westchester Cat Show.
The New York Times once mistakenly reported that she was a Birman, when clearly she is a distinguished member of the Ragdoll cat breed (no offense to Birmans, they are fine felines as well).
I wondered, though, if she was offended by that reference and demanded a retraction by the paper.
In a recent correspondence, I asked her how she felt about the mistake. Matilda responded to set the record straight:
I cannot be offended at an honest mistake. The hotel had changed owners about four or five times before this article was written and no one had my official papers. Thanks to the article my breeder sent my "papers" where I am officially a Blue point mitted Ragdoll. (My birth name actually was Villa Royal Poppy Seed).
In fact, this is a common error made with mitted Ragdolls, as the look is similar. That error was carried over into at least one edition of the book Planet Cat: A CAT-alog.
Shocking, I know!
Matilda has been reported as "a former show cat" but I wasn't so convinced. I got curious about her background and how she came to the hotel, and found out that in fact, Matilda was a breeding cat, but was not shown.
Matilda herself gave me a clue as to her heritage, so I contacted her breeder, Eileen Pickett, who told me in an email...
Yes Matilda came from my cattery. She was not shown but was one of my breeders and was from a very good line. The hotel was looking for a cat, they contacted me and the rest is history..
You would think all that hard work in the hospitality industry must make a kitty hungry, and with a hotel staff at your service, there must be some good eats (and smells). I got to thinking about that, so I asked Matilda the following question, and she was kind enough to reply with a very personal response.
[Me] Being at a posh hotel all the time must be interesting, especially with so many cooks close by. What is your favorite food?
[Matilda] (Enthusiastically) "GRAVY -- anything with gravy -- chicken with gravy, tuna with gravy, beef with gravy, gravy with gravy!!!"
Apparently, she really likes gravy!
---
Facts About The Algonquin
Built in 1902, it is New York City's oldest hotel in operation, and a New York City Landmark as well as a literary landmark.
Frank Case became manager in 1907, and owner of the hotel in 1927. He changed the name from The Puritan to The Algonquin.
The Algonquin became famous early on as a meeting place for the influential members of the Algonquin Round Table, who called themselves the Vicious Circle.
The bartenders will serve you up a drink, either the Matilda in her honor, or a $10,000 martini, complete with a diamond ("on the rock").
The Algonquin has changed hands a number of times, and been remodeled over the years, but still retains its classic character and charm.
---
Facts About Matilda The Ragdoll
Was awarded "Cat of the Year" in 2006.
She's the ninth kitty in residence for The Algonquin, but the first purebred cat to hold the position.
Was not a show cat, but was a breeding cat for Eileen Pickett's cattery, Villaroyal Ragdolls.
Was wrongfully described as a Birman by the New York Times, but is in fact, a blue mitted Ragdoll.
Throws a birthday part for herself every year.
Raises money for the North Shore Animal League.
Doesn't like other cats much, but hangs out with a dog a couple of times a week.
Loves gravy!
I hope you enjoyed learning more about Matilda as much as I did. You can learn more about Matilda and her hotel at the official page of The Algonquin Cat.
You can learn more about Ragdolls with these Ragdoll cat breed facts, and meet more cats with jobs.
As Matilda would say "Have a PURRfect day" !!
A very special thank you to Matilda the Ragdoll herself for helping me with my research, and to her breeder Eileen Pickett for her input as well. You can see more pictures of Eileen's cats at her website, Villaroyal Ragdolls.
---