The New Algonquin Cat
Matilda, the Algonquin Cat has retired! Queen Matilda II has abdicated the throne and turned over the reins to Matilda III, who is the new official cat in residence.
Yes, the famous and historic Algonquin Hotel in New York City has had a changing of the guard.
After 13 years, there is a new "Algonqueen" in the house (January 2011).
I received the following email from Alice de Almeida, Executive Assistant at The Algonquin Hotel, and Matilda's chief typist.

"Matilda II has gracefully retired to a FURbulous apartment in Brooklyn. She handed over the reigns to Matilda III a rescue from North Shore Animal League America. Both girls are CATabulous!"

And so, the reign of one member of feline royalty ends and another begins, seamlessly preserving the continuity of a kitty dynasty.
Concerned about her transition, though, I was curious as to who adopted Matilda II. Alice wrote back...
"Matilda II now enjoys luxurious Brooklyn living with her favorite front desk agent. It is a PURRfect match. (side note – the first two nights she kept hitting Ann at night until she woke up -- we realized she never saw anyone sleeping and was making sure Ann was alive!!!)
Matilda III acts like she always has been here. Come meet her!"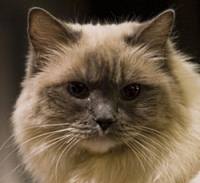 Matilda II, the former Algonquin Cat
I would love to! Every year there is a birthday celebration in August for the hotel's resident cat with an animal benefit fundraiser. If you and I are fortunate enough, we'll both be there!

While Matilda II is a blue-point Radgoll, it looks like the new queen of the house is a bi-color. (you can brush up on Ragdoll cats here).
---