Featured Kitties for August, 2013
Round 3

Say meow to the third round of featured cats for August, 2013. These pictures were all contributed by visitors who want to show off their babies. Enjoy and show them some love!

Spoiled Rescue Bruce

"He was a sickly li'l guy..."
Bruce had a bad infection and his previous adopted parents returned him because he sneezed a lot.
"I know he needed us as much as we needed him..."
"He is a black Siamese mix, ten months old and loves to play tag with our 6 year old daughter and LOVES to steal tiny things from us and put them in his food dish.
He always knows when someone needs a snuggle. He absolutely has the best temperament of the few cats we've owned. Such a privilege to call him our baby!"
~Andrea Jasso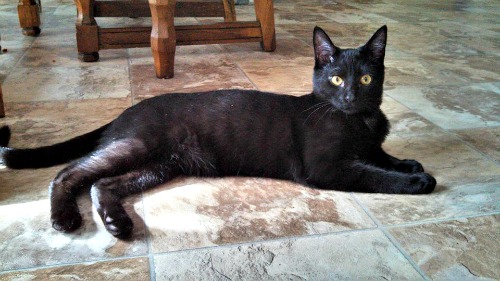 ---
Jack Daniels and Hallow Barry
"Jack Daniels, a 6 year old Egyptian Mau, my husband bought for a wedding present at a local shelter. He's a lover!
Hallow Barry was a gift for my birthday last year. She's half Bengal and tabby cat. She turns a year this month. She is a total princess.
They're both talkers but Hallow chirps and runs sideways when she wants to play. She is addicted to the laser pointer whereas Jack loves his catnip toys.
I wouldn't trade them for the world! I named her Hallow because my birthday is 13 days from Halloween. Jack was named jack Daniels as a Pirates of the Caribbean joke."
~Channing Spade Wallach-Milburn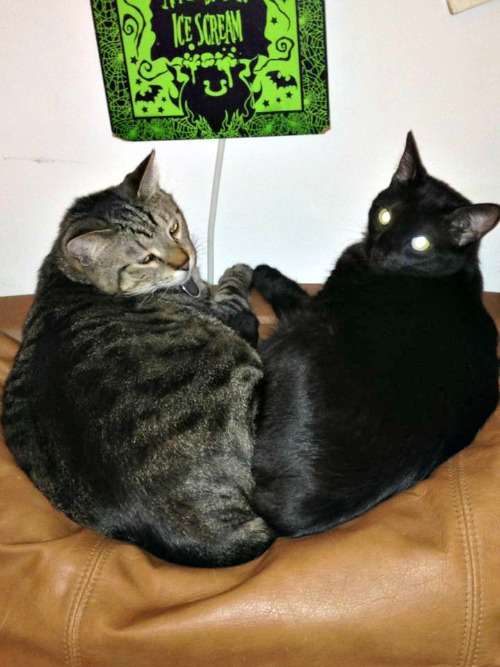 Is it just me, or are they making a heart shape?

---
Cow, Meet Patches

Dawn Stevenson's cat, Cow meets her newest kitty, Patches.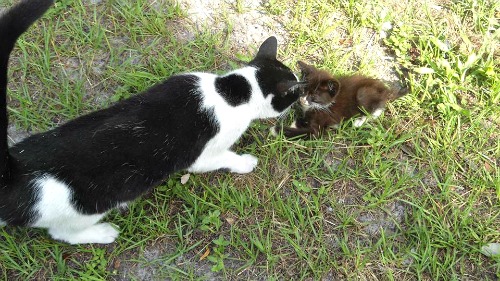 ---
Winky
"Her name is winky. She's about 15 years old. When she was about a year old she showed up at my back door. My neighbors kept trying to give her chicken because they wanted her but she refused to go.
So I had her checked by my vet and she was fine, just had an over active tear ducked which caused her to look like she was winking all the time so we kept her and that's how she got her name.
She's very active still in fact she caught a bird the other day which thank goodness we saw it just in time so we let it go. She loves to play still and meows like crazy and is super friendly.
She's a great old kitty. We do have to make sure she is inside the house when we go for walks though because she likes to follow us."
~Denise Magdaleno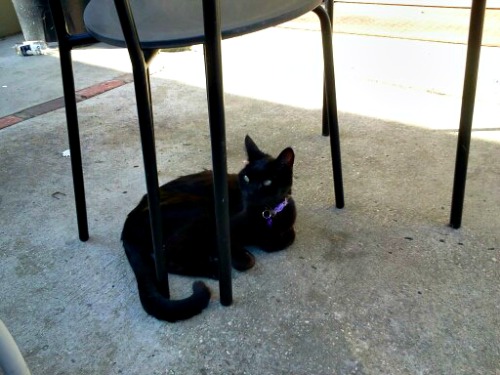 ---
Chiu

Gaurav Rawool's Chiu... "we also used to call her kalu (means blacky) though she was snow white, but she was only one with black patches."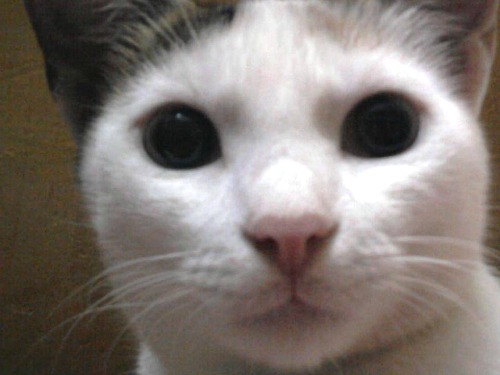 ---
Spaghetti
"Spaghetti is about 3 years old. She was found as a kitten fending for her life and too small for the humane society to take in. Her first meal was out of an MRE packet which was spaghetti. I fostered her and of course fell in love with her and she enjoys the great outdoors (and indoors) in her forever home."
~Jane Smith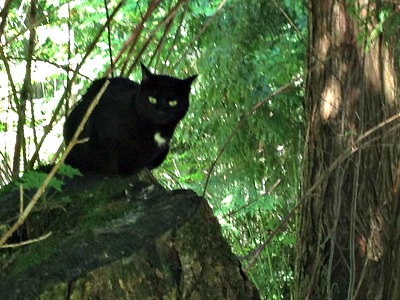 ---
A Construction Site Rescue

"This is Angel. I rescued her from a construction site near my campus. She was just 2 weeks old and just opened her eyes.
I bottle fed her for few weeks until she was able to eat by her own. Sometimes I miss that midnight meowing, demanding for food.
A few months passed, she is a very playful, active, and a sweet kitten now. I am really glad that she is happy with me.
She has been the best thing to ever happen to me, i just love her so much."

~Joyce Yean

---
Born on the 4th of July

"Rocket is a 4 year old longhair I adopted from Boulder Valley Humane Society as a kitten. He loves to jump and play tag with his big brother Russ, my Springer Spaniel. He is a little guy, only 7 lbs and has been diagnosed with IBS which is well managed with diet."
~Kathy Miyasaki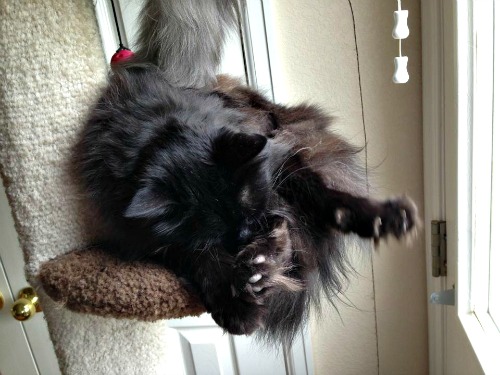 Rocket was celebrating Black Cat Day with some yoga.

---
The Hand that Rocks the Kitty

"He was given to me by a neighbor when he was small enough to sleep in my hand."
"His name is Chino (3 yrs old). He has a temper but loves attention. He's terrified of the vacuum cleaner and the sound of lawn mowers."

~Kelvin Passmore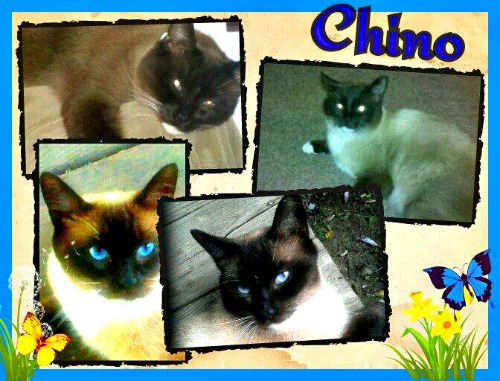 ---
More Featured Kitties

---
Pictures of Cats

Cat Lovers Only