Cat Lover Gifts: Products for Feline Fiends
Yes, I said feline "fiends."
With cats being the number one pet in the US, there are many choices for cat lover gifts.
They make great presents for any occasion.
Let's look at some popular ideas and products for cats and their owners, or people who just appreciate the sneaky little buggers.
Here are some ideas:

---
Household and Personal Items
Some suggestions here include calendars, wall plaques, coasters, trivets, cups, and mugs.
Items for the PC user are always a hit, such as mouse pads, screen savers, and laptop skins. Cat magazines are a great idea as well.
If all else fails, you can't go wrong with a cat key chain...
Figurines and collectibles, including Christmas ornaments are good ideas. Holiday and seasonal decorations, as well as other year round decorative products for the cat lover are very popular. Plush toys are a good one as well.
---
Cat Posters and Framed Art
Over the years, many a famous artist has painted the cat. Cat paintings were creations of such famous artists as Renoir, Toulouse-Lautrec, Manet, da Vinci, Picasso, and Chagall.
Gottfried Mind, however, was the first painter to specialize in cat portraits. Most other artists focused on people, with cats or other animals as companions in the photos. Mind is said to have worked with kittens draped on his shoulder and their mother cat nearby.
Cat posters and framed art make great additions and spruce up a living room, kitchen, or bedroom. Whether it's classic Mind or Renoir, or a modern lithograph of a cat with sunglasses on, cat posters make a spectacular choice for cat lover gifts. Posters are perfect for graduations, birthdays, or as a send-off for new college students.
Items from AllPosters
In the 1890's the work of Theophile-Alexandre Steinlen, a graphic artist, was seen all over Paris in posters and advertisements. His work is just as popular today, and you can hang it in your home.
His most famous painting is "Chat Noir" which you've probably seen. That poster, and others, are available from AllPosters.com at the following link...
Here are some more cat posters...
More on cat posters and framed art.
---
Items for the Cat
Let's not forget kitty here. If you really want to impress a cat owner, get their cat a gift. This works especially well if you're in a new relationship.
Some good suggestions here are cat collars, bowls, beds, and ID tags. These all make great cat lover gifts.
Catsplay is a great resource for cat lover gifts and has tons of items for both cats and cat owners alike. For cats, this includes great and sturdy cat furniture and kitty condos and toys. Bling for the cat - custom cat jewelry with collars are a big hit as well.
Cat Gift Baskets
Cat gift baskets focus more on your cat than many of the other forms of cat lover gifts. What better way to please a cat lover than to treat their cat to a gift basket?
Did you know?
About 63 percent of cat owners purchase gifts for their furry feline buddies, and 5 percent actually throw kitty birthday parties.
Catsplay has a nice selection of cat gift baskets. Some of these have items for the cat owner as well as the cat. Some are also for the, um... well, the dog (shhhh! don't tell the cat). Below is a mini-store with a selection for you to choose from.
Cat Beds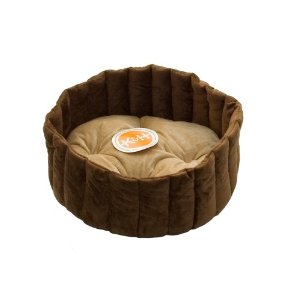 Giving your cat a comfortable, safe place to sleep and relieve stress is very important to your cat's well being.
Cat beds with washable covers, like this Kitty Kup one from K&H are comfy for your kitty, easier for you.
For more kitty enjoyment, get some catnip or catnip oil and retreat the bed periodically.
---
Cat Lover Products

Cat Lovers Only