The Right Cat Litter Box Cover
The right cat litter box cover can make your house look better, and sometimes, smell better. It also can reduce the amount of litter tossed out of the box and tracked around the house.
If you have a dog who raids the box and eats cat feces (a nasty habit some dogs have), it may help with that too. But will your cat take to it?
Some cats will not like the standard covered litter box that you see in most stores. They either don't like the confinement, the fact that it retains the smells, or that it doesn't let them position themselves properly.
The cramped space issue is especially true if you have a larger cat (say, 15 lbs or more). Even my 11-12 pound cats look like they could use something larger than a jumbo sized litter box when it's covered (or even when it isn't).

Other cats don't seem to mind at all, or at least they don't complain. Speculation is that some cats may even like the privacy that a covered box can provide.
But, I know from helping a number of readers with litter box problems that some cats don't deal well with covered boxes and some will refuse to use them.
Since the standard covered box is not all that attractive, you might want to consider something more attractive, interesting, or even decorative. If you can get something decorative that also allows your cat more room to move, you might just be able to kill two birds with one swipe of the paw.
One such offering is the Midwest BayIsle Hide-A-Way Litter Box Cover or Pet Retreat.
If you've been using a covered box all along, or you want to switch to one, here are some options. Some of the ones listed here may be more attractive than your standard purchase.
If both aesthetics and space are a consideration, then some of the hidden litter box solutions or litter box furniture options are probably a good choice.
If you're only looking to cover things up, however, then a covered box will do the trick. You can even get covers that fit some of the automatic litter boxes as well, or buy them with covers to begin with.

---
A Cat Litter Box Cover with Style
If you're finding it difficult to hide the cat box, the Midwest BayIsle Hide-A-Way Litter Box Cover may be one of the best solutions.
Looks like a decorative basket or trunk, but acts as either a hidden litter box cover or a pet retreat (just put a cat bed inside, and you're good to go).
It's large enough to accommodate an extra large litter box, and give your cat some space and visibility as well. It's well ventilated and the resin material is non-absorbent so it won't keep odors in. This allows you to have a covered box without offending sensitive kitty noses.
Rubber feet keep the unit in place, and it's sturdy so your cat won't move it around. The double latch door swings both in and out, and allows for easy access to the box for cleaning.
One of the complaints on Amazon about this product is that the description may imply that it includes a litter box. You'll have to buy the box separately.
Another option for a stylish cat litter box cover (of sorts) are some of the other hidden cat litter box products. These include the various litter box furniture options available. The Midwest BayIsle Hide-A-Way could be considered furniture I suppose, and there's also the Kitty Curtain.
The Kitty Curtain was recommended by one of the Cat Lovers Only readers here, but their website seems to be down, although it's still registered (kittycurtain.net).
---
More Cat Litter Box Cover Options
In addition to the above, here are a few more options for adding a cat litter box cover to your existing box.
Simpson Ventures Mr. Herzher's Litter Pan Cover
Mr. Herzher's is a cat litter box cover very similar to the Midwest Hid-a-Way product. It's another way to have a hidden litter box without buying the enclosed litter box furniture.
This one comes in large and jumbo sizes and the litter box slides out on glide rails.
The Rhino-Wicker resin won't absorb odors or fluids, and can be cleaned with soap and water.
It has non-slip feet and the bottom tray minimizes litter scatter.
---
LitterMaid Kitty Kabana Universal Privacy Tent
The LitterMaid Kitty Kabana Universal Privacy Tent is made to fit all LittMaid models as well as standard sized cat litter boxes.
It hides the box while the translucent material it's made from actually makes for a brighter box.
If you're getting this for an existing non-LitterMaid box, make sure you check your box measurements and clearance so that you're sure it's going to fit.
---
Cat Litter Box Furniture

There are a number of litter box furniture options, many of which are quite attractive and innovative. People won't even know you have a cat.
---
Pet Studio Litter Box Cabinet Mahogany
Your cat has side access to the box, while the double doors in front open for easy access to the box for cleaning. Top drawer stores litter box scoop, extra litter, and other items. Guests won't be able to find the box.
---
Merry Cat Washroom/Nightstand Pet House
The Merry Cat Washroom provides a hidden area for the litter box. It can be used as a nightstand or coffee table, or just a decorative piece up against a wall.
---
The Covered Litter Box
Here are some boxes, both manual and automatic, that come with covers, often referred to as hooded boxes:
---
Deluxe Hooded Litter Pan - Jumbo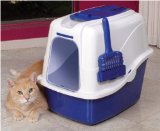 Deluxe Hooded Litter Pan - Jumbo
This is a variation of the standard hooded litter box and has a high back (which helps with cats who aim high) and a flap door to control litter scatter. It's a good size box which gives larger cats room to move around. If the box is too small for your cat, it can lead to box aversion.
---
The Booda Cat Litter Box
Booda Dome Covered Litter Box (Pearl) (17.5'' diameter x 18''H (Pearl - Color))
Booda makes stylish, globe-like covered litter boxes in pearlescent colors such as Iris, Pearl, Titanium, and Pink. The Booda Dome Covered Litter Box uses an activated charcoal filter, which is hidden in the dome top. People using this product have reported less odor in the house than typical open litter boxes (the manufacturer claims that these boxes are 99 percent odor free).
As with any covered box, some cats may not like it, and others may seem to enjoy the privacy. Some larger cats may find the area too small and confining.
The Booda Cleanstep litter box goes one step further and helps to prevent litter tracking by including a paw cleaning ramp right inside the covered box.
More on the Booda litter box models
---
Omega Paw Self-Cleaning Litter Box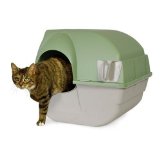 Omega Paw Self-Cleaning Litter Box, Regular, Green and Beige
The Omega is a self-cleaning litter box that is also a covered box with an innovative design. This litter box self-cleans by rolling it to the right and then back again. When the box is rolled, the clumped litter and waste collects in a tray.
Putting the box back to its normal resting state puts the remaining clean litter back in its place. The tray with the waste is a pullout tray, so disposing of the soiled litter is easy. There's no scooping, and you don't waste litter, so it's a more cost effective litter box.
This box only works with clumping litter. So, no liners are required, and you should use a premium clumping litter like Fresh Step, Tidy Cats, or Arm and Hammer.
---
Litter Robot LRII Automatic Self-Cleaning Litter Box
The Litter Robot LRII is an electronic automatic self-cleaning litter box with lots of innovation.
Unlike some other automated boxes, the Litter Robot doesn't need special receptacles that need to be replaced, special filters, and special bags. It doesn't use a rake system (which have been known to break, jam, or clog).
It uses standard kitchen garbage bags to collect the waste into a drawer. You can empty the drawer a few times per week, instead of scooping litter once or twice a day.
The unit has a sensor that detects the presence of your cat, and then starts the cleaning cycle 7 minutes after your cat leaves the box. The LRII is a globe-like unit with a built-in cat litter box cover.
The pros and cons of using an automatic litter box.
---
Topics Related to Cat Litter Box Cover

Learn the basics of box training
Litter box aversion -- top reasons your cat won't use the box
Having litter box problems? Here's a guide to solving them. You can post your problems and get help, or help other readers solve their problems
---
Cat Litter Box

Cat Lovers Only