The Booda Cat Litter Box Line
The Booda cat litter box line, with its innovative dome cover design, has several models, including one with a paw cleaning ramp to prevent litter tracking.
Booda is an Aspen Pet product, which is a Petmate company that makes unique covered litter boxes. These products address some major complaints that cat owners have expressed about litter boxes.

One of the main complaints about litter boxes from cat owners is that the litter tracks all over the house. Some cats will thrash around in the box quite a bit before and after doing their business, which leaves litter all over the area.

This can result in quite a bit of litter on the floor. A litter box cover can help with this. Here is a discussion on cat litter box covers, and covered boxes.
Another complaint about litter boxes is that they're an eyesore. This company makes popular and stylish designs in various "designer" colors to go with your decor.
Here are some of them:
---
The Booda Dome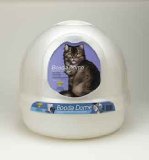 Booda Dome Covered Litter Box (Pearl) (17.5'' diameter x 18''H (Pearl - Color))
The Booda Dome's unique design includes a dome-like cover with a built-in filter that according to the manufacturer keeps this box 99 percent odor free.
The circular design may be better (although I have no proof) for cats who like to circle around a few times before settling in. The box is fairly large, but some people have reported that larger cats may still be cramped in there.
The Dome comes in various colors, such as pearl, titanium, iris, silver, blue, and pink.
---
The Booda Cleanstep
Dome, Cleanstep Cat Box, Pearl
A covered litter box can help with the litter that's tossed out of the box, but you still end up with what the cat takes with her when climbing out of the box. A litter box mat can help with this part of the litter tracking problem.
The Booda Cleanstep litter box takes the Booda Dome to the next level by including both a cover and a paw cleaning ramp inside the box itself. This dramatically reduces the amount of litter scatter and the litter stuck in little furry paws that makes its way into your carpet or bed.
The Cleanstep is available in Pearl, Titanium, and Iris colors. It utilizes the same built-in filter in the dome top that the Booda Dome uses to keep it 99 percent odor free as well.
Cautions about this model: Some have said that more timid cats may be leery of entering the box. In addition, there have been those who have said that for some reason, their cats end up urinating on the paw ramp/stairs, instead of in the litter area. This is the case even if the cat had already been using the box properly.
Other than a medical condition, I can only speculate as to why this might happen. Since it's a dome-shaped covered box, it may retain odors inside the box, just like conventional covered litter boxes.
You may not be able to smell it, but your cat can. If your cat won't put up with it, it's going to be an issue.
Another possibility is simply that the box wasn't kept clean enough for sensitive kitty noses and preferences. Yet another idea is perhaps rivalry among housemates.
The Cleanstep comes in several colors, including Pearl, Titanium, and Iris.
---
Topics Related to the Booda Cat Litter Box
Learn the basics of box training
Litter box aversion -- top reasons your cat won't use the box
Feline constipation, whether short or long term, can lead to box aversion
Having litter box problems? Here's a guide to solving them. You can post your problems and get help, or help other readers solve their problems
---
Cat Litter Box

Cat Lovers Only