Disney's 101 Dalmatians DVD Platinum Edition 3.4
Disney's famous 101 Dalmatians DVD Platinum Edition 3.4 has been released, for a limited time, on a two disk dvd set with all the trimmings (check availability at Amazon). And the hero is... a cat!
Like The Aristocats, this movie is great Disney fun and has always been one of my favorites, ever since I was a kid.
It's classic Disney, and the bonus features and enhancements make it a must own DVD for your collection.
As I'm sure you already know, this is an animated feature about two dalmatians (which many people misspell "dalmations") named Pongo and Perdita, who have 15 puppies.
Unfortunately, the evil Cruella De Vil is on a mission to create a Dalmatian fur coat, and kidnaps a total of 99 pups including Perdita's.
Cat lovers will recognize the infamous Sgt. Tibbs and his heroic contribution to the movie. Sgt. Tibbs is the feline hero that helps Perdita and Pongo save the 99 pups from being turned into a fur coat.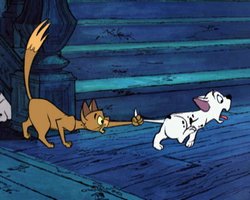 The message of the missing puppies is passed from dog to dog throughout the city and the countryside via the Twilight Bark.
With Tibbs and a bunch of furry friends, Pongo and Perdita have to defeat Cruella and her henchmen in Cruella's "Hell Hall" and rescue the pups.
Pongo and Perdita's owners, Roger and Anita Radcliff adopt the puppies, and plan to build a "Dalmatian Plantation" complete with a Nanny to look after them.

---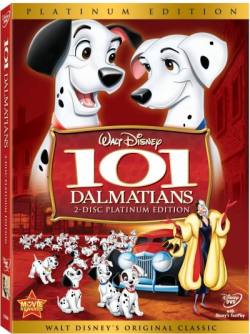 With picture and sound newly restored and enhanced, you can enjoy this Disney classic even more.
This is a 2-disc Platinum Edition, which contains never-before-seen Bonus Features.
These include a behind the scenes featurette detailing the making of the film.
In addition there are deleted songs, and a Virtual Dalmatian game where you can adopt, train, and care for your very own virtual puppy, and much more!
This is the first feature to use the Xerox® process exclusively for transferring the animators' drawings to cels. The previous process was much slower as it required that each one of the animators' drawings be hand-traced in ink onto a cel. With all those spotted dogs, hand-inking would have taken far longer.
The famous "Twilight Bark," used to rescue the puppies, was later adopted as the name for the newsletter for Disney Feature Animation.
Bonus Features
Games and Activities
The Games and Activities section has the Virtual Dalmatians Game, where you can adopt, train, and care for your very own puppy. There are also pop-up trivia facts where you'll discover over 101 things you didn't know while watching the movie. And, there's a fun with language game as well.
Backstage Disney
Backstage Disney includes a correspondence between the author of the book and Walt Disney himself, deleted songs, and the inspiration behind Cruella De Vil.
---
Fun Cat Stuff

Cat Stuff

Cat Lovers Only