Take Your Cat to the Vet Day
National Take Your Cat to the Vet Day (#Cat2VetDay) is August 22. Which leads me to ask...
When was the last time your cat saw the veterinarian? Believe it or not, for most cats, the answer is, "not recently."

According to the American Association of Feline Practitioners, 83% percent of cats visit the vet before they're a year old, but half of them don't see the vet again until they're sick or in pain.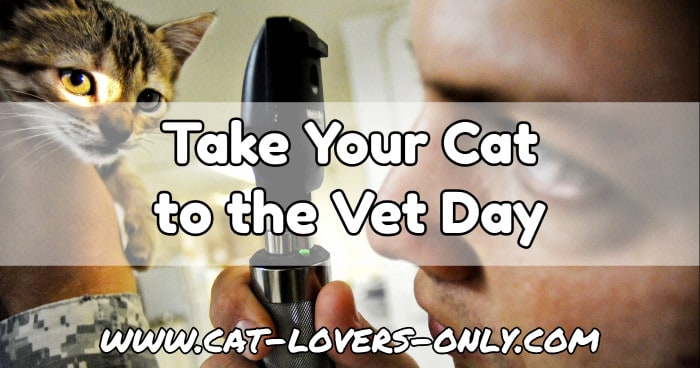 Cats hide pain and other symptoms of illness very well. This means many cats are either very far along in their disease process, or have been in pain for quite some time before seeing a vet.
Some people I've spoken to about this feel that cats can take care of themselves pretty well. They believe cats don't need to see a veterinarian unless there are obvious problems or signs of illness.
Others have a hard time getting their cat into a carrier or don't want to put their cats through the stress of going to the vet.
Maintaining optimal cat health without routine input from a veterinarian is difficult, though. Since cats hide their discomfort and can't talk to us about what's wrong, problems may go unnoticed.
There's an old saying. An ounce of prevention is worth a pound of cure.
We know that with proper preventive care, vaccinations, and regular checkups, a number of common cat health problems and illnesses can be prevented.
The AAFP doesn 't want bad things to happen to your cat. In an effort to encourage more cat guardians to schedule regular vet visits, they've teamed up with a few partners - Royal Canin, TICA, the CFA, and the CATalyst Council - for Take Your Cat to the Vet Day.
On a purrsonal note, Jazzy recently had his checkup and shots. Ouch! Sorry Jazzy! He got a clean bill of health from the vet, though.
In fact, Dr. Hall said, "I think you have a purrfect cat." OK, he said perfect, but I couldn't help myself. Happy dance!
Share These Take Your Cat to the Vet Day Videos
To help spread awareness of the importance of taking your cat to the vet, actor and cat lover Ian Somerhalder partnered with Royal Canin for the videos below.
If you want to get in on the action and help spread awareness, too, you can share these videos on your social media channels with the hashtag #Cat2VetDay.
During the month of August, for each share using the hashtag #Cat2VetDay, Royal Canin will donate $5 to Frankie's Friends to help cats in need of medical care.

How about you? Do you believe cats should see the vet every year?
Have you taken your cat to the vet yet this year? Have you made an appointment?
Is it difficult for you to get your cat to the vet or even in the carrier? How are you planning to celebrate this day?
---