How To Draw A Cat
Learn how to draw a cat using these resources.
I have almost no artistic ability, but even I can produce something that looks a bit like a feline using these techniques.
OK, only a tiny bit. A very tiny bit.
If, unlike me, you do have artistic ability but need a little push to get your feline drawing skills up to speed, these head to tail tutorials and guides will help you get where you need to go.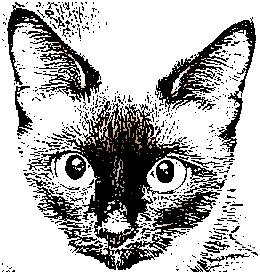 Siamese kitten face
---
Overview and Resources
There are different aspects of drawing, obviously, and some of these sites and tutorials focus on cartooning, or using digital tools, rather than hand drawing.
Here's one that focuses on how to draw a cartoon cat and another that deals mainly with how to draw funny cartoons.
How to sketch a cat in 30 seconds - a Making A Mark Guide by Katherine Tyrrell, offers tips on how to create better drawings of your cat quickly from a live subject, and develop your drawing skills.
If you're instead looking for coloring books, here's a list of cat coloring pages with links to get you started.
If you'd like to impress your friends and make them think that you have mad skillz and can draw a cartoon cat, you can use BeFunky. I used BeFunky.com to create this cartoon from a picture of Teddie, showing her very proud and bossy tail up...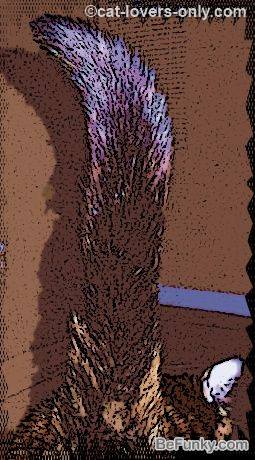 Teddie cat with her tail up, cartoon version
There are several websites that provide this kind of feature, allowing you to cartoonize pictures or add other effects, but I find that BeFunky is very easy to use and I like their interface.
Oh, by the way, since my artistic drawing skills are so bad, I did not draw the the Siamese cat face above. That is a photo that I modified to look like a drawn image. I did that with Paint.net, which is a free desktop tool for Windows computers.
---
Video Tutorials
Below are a number of video tutorials showing how to draw a cat. They include Chinese brush painting and other techniques, as well as various cats, such as a Maine Coon and a Siamese.
The below video of the kitten sketch is from drawing-studio.net, and represents 10 hours of drawing time compressed into 1 minute 42 seconds. The site has suggested drawing tips and tools as well.
---
---
The video below is a time lapse demonstration of how to draw a tabby cat. This is one doesn't look like it's for beginners!

---
In this next video, artist Jay French shows you how to draw a Siamese cat face and head.

---
Another one that is not for beginners, here's a tutorial on drawing realistic cat eyes which results in the picture looking as in the video below.

---
This next video shows a tabby cat in Chinese Brush Painting or Sumi-e. This is one of my favorites, because I like the style.

---
This video shows a time lapse of a Maine Coon cat drawing.

---
Here's a video on drawing Neopet cartoon cats (cat-like creatures). It's pretty fast, but it's fascinating to watch, nonetheless.

---
Artists And Inspiration
Just in case the above videos aren't enough to get your creative powers moving, below are the sites of some feline artists showcasing their work. Perhaps you'll be inspired and get ideas on how to draw a cat in some new and different ways.
Cat picture gallery of Sue Clinker's work
She uses pencil, pastel, and graphite.
Bigcatheads Blog
Bruce Mckay paints cats. Big, usually bright, unusual looking cats. Very expressive, comical cats that tell stories with their eyes. His paintings have great titles like "Ambush," "The Pacifist," and "Domestic Forest Cat." Some day, when I find just the right wall, I hope that one of his pieces graces it.
The Society of Feline Artists Online Gallery
The Society of Feline Artists was founded in 1994 and promotes "the work of the best cat artists."
Feline Gallery at The Painted Cat
Beautiful kitty cat art by Denise Laurent.
---