Cat In The Hat Merchandise: Where To Buy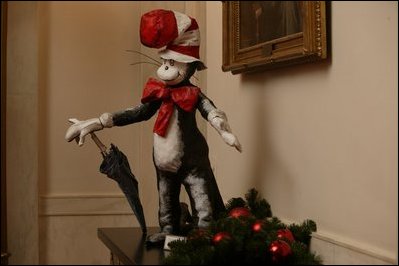 Looking to buy Cat in the Hat merchandise? The odd cat with the funny hat is a Dr. Seuss favorite, and perhaps more popular today than ever.
Below are places to buy Dr. Seuss products, suggestions for gifts, and a little bit about the origins of that famous feline that has taught many a child.

Clothing, DVDs, books, mugs, toys, and figurines, are some good gift items.
---
If you know someone who is a fan, clothing makes a good gift, and Amazon has quite a few things...
Amazon, of course, has books too...
---
About the Book
The Cat in the Hat is a beloved children's book written by Theodor Geisel, better known as Dr. Seuss. The book, originally published in 1957, introduces us to the crazy cat for the first time.
The book was more than nine months in the making. Writing it was a challenge. The author was restricted by his publisher to using a certain palette of words in order to match those words that kids would be learning in school.
The final book was completed with 223 words from the publisher's list, plus 13 additional words.
The name of the book came from Geisel's desire to create a rhyme, and the words "cat" and "hat" were the first two rhyming words he saw in the list. The rest, as they say, is history.
The book itself was actually a response to an article in Life magazine regarding the literacy rate of children, and the fact that reading primers were less than interesting and exciting. Geisel had an opportunity to make learning reading fun.
With over 10 million copies of the book sold, I'd say he succeeded. One of the most recognizable and unique characters, the "Cat" is one of the most famous cats ever.
---
More Places To Buy Cat in the Hat Merchandise
eBay has thousands of items for cat lovers, of course, including Dr. Seuss merchandise.
More sites...
---
Topics Related to Cat in the Hat Merchandise
Famous cartoon cats both entertain and educate
---
Cat Lover Products

Cat Lovers Only