The Outrageous Bill The Cat
Bill the Cat is a cartoon character created by the Bloom County, Outland, and Opus comic strip creator Berkeley Breathed.
Breathed's intention was to make Bill a rather repulsive character. In fact, he wanted Bill to be repulsive to the point where he couldn't possibly have any merchandising appeal. Take a look...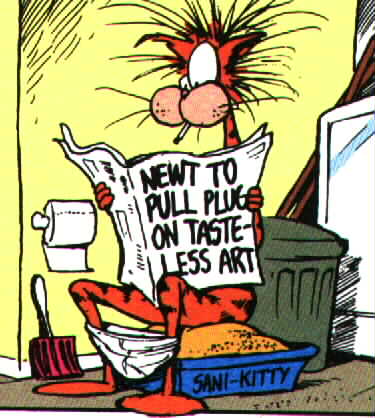 BB's quest for the repulsive in Bill is possibly in response to the enormous success of the sale of Garfield merchandise. Some comic purists have criticized the Garfield empire for being more about profit and commercialization than about the comic art form.

In any case, the result is Bill is a rather disheveled looking creature, with a history of alcohol and drug abuse. Being sort of tall and thin(ish) in places, he's barely recognizable as a cat.
He reminds me (in an odd way) of an anorexic, orange and black spotted version of the Cat in the Hat, with a punk rock hairdo and fleas. Ironic in a way, since Cat in the Hat merchandise is popular.
He also has a rather ridiculous and quite hilarious biography, having died after crashing his Ferrari into a cactus at 140 miles per hour. He was subsequently "brought back to life" as a clone, from cells in his recovered tongue.
The attempt at destroying any chances at Bill the Cat merchandise failed, of course, as there is no stopping the fans or the money machine.
Bill rarely spoke and isn't known for his sayings per se, but his dialog often consisted of the sound "Ack!" or "Aack!" as he coughed up hair balls. He also had a habit of using "THPPFFT!" as sort of a Bronx cheer.
He ran for public office, including running for president twice, but lost both times (once for hacking up a hair ball on Connie Chung). He was also responsible for causing the Chernobyl nuclear reactor melt-down.
He's also been a film star and played lead tongue in a heavy metal band called "Deathtongue." Bill has led an eventful life!
---
Is Berkeley Breathed Anti-Garfield?
The creator of Bill the Cat, Berkeley Breathed, has made a number of somewhat harsh comments regarding Jim Davis' comic strip cat, Garfield. Breathed has claimed that many comics seem to lack passion, and stated his displeasure with what I'll call "assembly line" processes in the production of the strips.
He has also made remarks about the fact that comics are best done by passionate artists, indicated that comics don't age all that well, and expressed a dislike of strips being run when the "stripper" has long since passed from this world.
Perhaps making fun not only of his own views on comics, but also making fun of Garfield and politics all at the same time, Breathed had Bill the Cat playing Garfield at a shopping mall promotion. It was at this event where Bill received word that he had been chosen mayor of Bloom County.
Bill has been seen wearing Garfield underwear, which I would call a bit of a plot twist.
---
Merchandise
Despite his creator's stated desire for Bill to be merchandise-less, products with his likeness on them are out there to be had. In addition, you can buy compilations of Breathed's comic strips, Bloom County, Outland, and Opus, and Bill has appeared in all three.
---
Related Topics
---