Veterinarian Career Paths
Your veterinarian career can take almost any path you choose in the area of animal health care. Small or large animal practitioner, teaching positions, and work in research are all possibilities.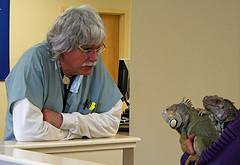 When most of us think of veterinarians, we usually think of vets with small animal practices.
This type of veterinarian deals with patients much like a human doctor would, except of course, the patient is a small animal.
---
Veterinarian career specialization
There are many types of veterinarians, just as there are many types of doctors for humans. The avenues one can take in a veterinary career include specializations in:
Veterinary dentistry
Veterinary dermatology
Veterinary ophthalmology
Veterinary pharmacology
One can also choose to focus on general animal care. In many cases, these vets specialize in either small or large animals. Small animal vets care for, among others, dogs, cats, rabbits, birds, and reptiles.
Some small animal practices further specialize, choosing to handle exclusively cats, or dogs, or perhaps exotic pets. Large animal practices handle horses and farm animals, such as cows and sheep.
In addition to small and large animal practitioners, veterinarians can work in many capacities. There are jobs in wildlife, teaching, research, zoos and animal welfare organizations. Research positions can include the study of disease, or product development for cat food companies or drug companies (more on this below).
---
Becoming a veterinarian
It's long road to becoming a vet, and a lot of training is involved. If you're interested in a veterinary career, you'll need similar skills to what a human doctor would have.
You'll need to have a good grasp of math and science. Chemistry, biology, especially zoology and anatomy of non-human species are musts. Remember, as a vet, you've got to know the biology of many species!
To start your veterinary career, you'd ideally want to focus on math and science in high school. You'll have to complete four years of pre-vetarinary undergraduate studies, with an emphasis in the subjects above.
Ideally, you'll also want to have lots of hands on experience with animals of various kinds. It's not uncommon for aspiring vets to volunteer at animal shelters or work at pet stores as teenagers. Working for a veterinarian would be an excellent idea.
After graduation from undergraduate school, it's time to go to veterinary school. A number of excellent major universities have veterinary schools. Four years of full-time study at an accredited veterinary school is required to obtain a DVM (doctor of veterinary medicine) degree.
After earning a DVM degree, veterinary school graduates must pass a licensing exam before they can work as veterinarians.
---
Starting out
So, you're a veterinarian. Now what?
At the beginning of a veterinarian career, many recent veterinary school graduates will go to work for a more established animal hospital or veterinary clinic. This gives them the real world animal care and business experience they need for a solid long term career.
Right out of school, affording the start-up costs associated with a new practice is difficult. New graduates are also not experienced in running their own businesses, so leasing office space, purchasing equipment, and hiring and managing staff are all new to them.
After gaining several years of experience, they may become partners in the practice, or branch out on their own and open their own practice. A veterinarian I used for many years began a practice in partnership with another vet, after they had both worked for the same clinic.
---
Day to day tasks
A typical day for a small animal vet might include seeing a number of patients. When seeing patients, vets diagnose illnesses, order lab tests, and administer appropriate vaccinations. Activities also might include:
Performing spay surgery on a cat
Administering a post-operative exam on a dog who had surgery the day before
Handling an emergency
Performing an annual check-up on a cat
A large animal veterinarian might perform check ups on horses and sheep, or exotic animals such as alpacas or camels.
In addition to being technically proficient at surgery and diagnostics, veterinarians have to be good at handling both people and animals.
---
Alternative jobs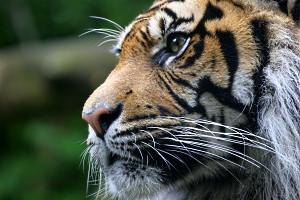 There are many veterinarian careers that are very different from the vet who works for or owns a small or large animal practice. You can work with "lions, tigers, and bears" or in many other capacities.
Zoos, aquariums, wildlife preserves and parks need veterinarians to care for all the different types of animals that live there. There may also be opportunities for world travel, studying rare or endangered species, or protecting and caring for wild animals. Or, you can stay at home and work with local rescued animals.
Teaching is a great career, with positions at either veterinary schools, or undergraduate universities teaching pre-veterinary courses.
If research interests you, there are jobs and career opportunities in many other areas related to veterinary medicine. Research in veterinary science is conducted and/or funded by dog and cat food companies, drug companies, foundations, and government agencies, to name a few.
Working on advances in public health and vaccines, curing or treating diseases, and the latest in medical devices are all areas where jobs can be found.
Photo credits:
Veterinarian Kevin Fitzgerald / CC 2.0
Sumatran tiger by hotblack @ morguefile.com / Scott Liddell photography
---
Ask A Veterinarian

Cat Lovers Only