The Secrets of Lost Cats

I was given a free, pre-release promotional copy of The Secrets of Lost Cats, a book by Dr. Nancy Davidson. I was also fortunate enough to be given the opportunity to give away 25 copies of the book.
Rather than write my own review, I thought it would be fun to get copies into the hands of readers like you, and let them offer their input and tell us what they thought of the book.
The giveaway is over, but you can...

What's the book about?
To recover her missing orange tabby, Zak, Nancy Davidson made a lost cat poster. Fortunately, she and Zak were happily reunited, but something was different.
By then, Nancy had become highly aware of cat posters. Not just of the posters themselves, but the feline and human stories behind them.

You know that switch that gets flipped in your mind after you buy a silver car, and you start seeing silver cars everywhere? It's like that, only with fur.

The "about" that follows below is from the publisher...
When her orange tabby, Zak, disappeared, Nancy Davidson did what countless people before her had done. She made a lost cat poster. And after days of frantic searching, she found him. Nancy was ecstatic. Zak seemed happy, too—although being a cat, it was hard to tell.

Zak may have remained his old self, but Nancy had changed. From that moment on, she became acutely aware of lost cat posters. She studied their language, composition, and design. She was drawn to their folk art. Mostly, however, she was intrigued by the messages themselves—the stories behind the posters. It wasn't long before Nancy reached out to the owners calling them to offer empathy and support. And it wasn't long before they confided in her and sought her advice. That's when Dr. Nancy, the seasoned therapist, stepped in and offered insights brought to light by her shrewd, but never self-serious analysis. What they told her—and what she learns—forms the basis of this engaging and insightful book.

The Secrets of Lost Cats traces the evolution of Nancy Davidson's passion for lost cat posters. From the astonishing, almost implausible posters she encounters across the country—and indeed, the world—to the daring, dedication, and emotional complexity of the lost cat owners themselves, The Secrets of Lost Cats provides readers with an absorbing read that illuminates love, loss, and learning to love again, even more deeply.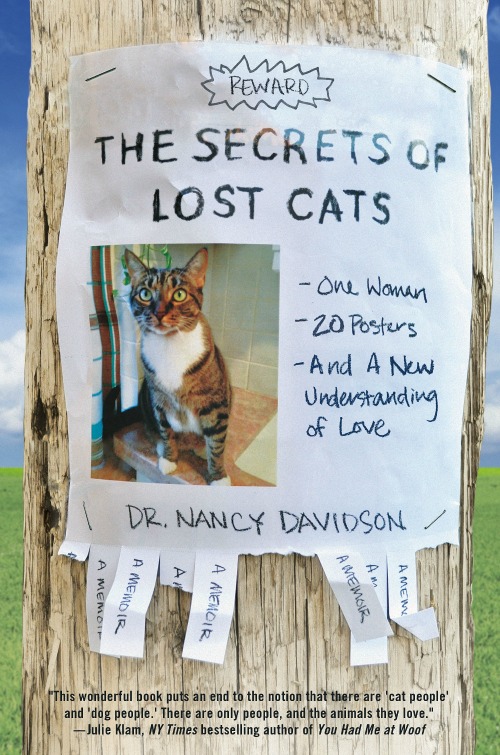 What others have said about the book...

"This wonderful book puts an end to the notion that there are cat people and dog people. There are only people—and the animals they love." —Julie Klam, New York Times bestselling author of You Had Me At Woof
"Dr. Nancy Davidson takes a brilliant idea for a book, clamps down on it like a cat with its 'mousie' toy, and runs from one insight to another about people and the kitties who own them. But beware. After you read this you may never be able to just walk past a lost pet poster again." – Bob Tarte, author of Kitty Cornered, Enslaved by Ducks, and Fowl Weather
"The best animal stories are ultimately human stories as well, and this book is a beautiful testament to just that. The stories in these pages--each one a gem--will make you laugh, cry, hug your own felines a little bit closer, and in the end remind you why those of us who love our cats would do anything in the world for them." - Gwen Cooper, New York Times Bestselling author of Homer's Odyssey
"Each of the brief glimpses into the cat owner's lives proves captivating. Davidson has an engaging writing style and clever concept; people's relationships with pets can reveal much about their personalities, and how a pet owner reacts when his or her pet is suddenly lost can be even more illuminating. Davidson has taken a narrow interest – cat ownership – and used it to examine human nature." –Publishers Weekly
So what about you, are you excited about this book? Will you read it?
When you do, please come back here and let us know your thoughts by leaving your own review in the comments.

---
Cat Lover Products

Cat Lovers Only