Funny Cat Quotes
A collection of funny cat quotes from many different authors submitted for your perusal. I've seen some of these on t shirts, mugs, and even mouse pads (but I got most of them from books).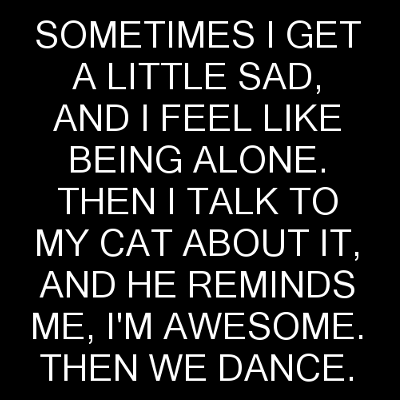 "The more people I meet, the more I like my cat."
-Anonymous
"Cat: A pygmy lion who loves mice, hates dogs, and patronizes human beings."
-Oliver Herford
"The cat is domestic only as far as suits its own ends."
-H. H. Munro
"I've met many thinkers and many cats, but the wisdom of cats is infinitely superior."
-Hippolyte Tain
"An ordinary kitten will ask more questions than any five-year-old."
-Carl Van
"After scolding one's cat, one looks into its face and is seized by the ugly suspicion that it understood every word. And has filed it for reference."
-Charlotte Gray
"Cats are kindly masters, just so long as you remember your place."
-Paul Gray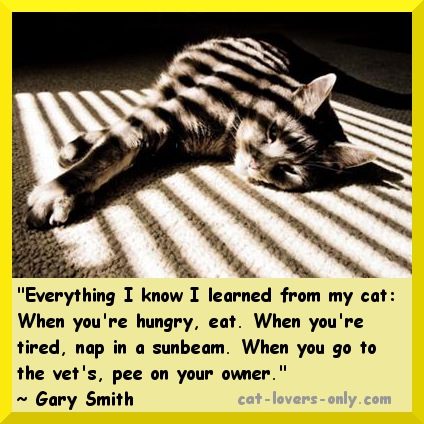 "Everything I know I learned from my cat: When you're hungry, eat. When you're tired, nap in a sunbeam. When you go to the vet's, pee on your owner."
-Gary Smith
"The cat seldom interferes with other people's rights. His intelligence keeps him from doing many of the fool things that complicate life."
-Carl V. Vechten
"Her function is to sit and be admired."
-Georgina S. Gates
"Some people say that cats are sneaky, evil, and cruel. True, and they have many other fine qualities as well."
-Missy Dizick
"No amount of time can erase the memory of a good cat, and no amount of masking tape can ever totally remove his fur from your couch."
-Leo Divorken
"Every life should have nine cats."
-Anonymous
"My cat does not talk as respectfully to me as I do to her."
-Colette
"Dogs have owners; cats have staff."
-Anonymous
"Dogs believe they are human. Cats believe they are God."
-Anonymous
"It's very hard to be polite if you're a cat."
-Anonymous
"Cats are absolute individuals, with their own ideas about everything, including the people they own."
-John Dingman
"There are many intelligent species in the universe. They are all owned by cats."
-Anonymous
"Way down deep, we're all motivated by the same urges. Cats have the courage to live by them."
-Jim Davis
"Dogs are eternally grateful that humans exist; cats, however, are simply mildly appreciative!"
-Carl Brizzi
"A cat's hearing apparatus is built to allow the human voice to easily go in one ear and out the other."
-Stephen Baker
"Women and cats will do as they please, and men and dogs should relax and get used to the idea."
-Anonymous
"Dogs come when they're called; cats take a message and get back to you later."
-Mary Bly
"Cats are the ultimate narcissists. You can tell this because of all the time they spend on personal grooming. Dogs aren't like this. A dog's idea of personal grooming is to roll in a dead fish."
-James Gorman
"Kittens are born with their eyes shut. They open them in about six days, take a look around, then close them again for the better part of their lives."
-Stephen Baker
"Kitten: A small homicidal muffin on legs; affects human sensibilities to the point of endowing the most wanton and ruthless acts of destruction with near-mythical overtones of cuteness. Not recommended for beginners. Get at least two."
-Anonymous
"I found out my cat was embezzling from me. You think you know a cat for ten years, he pulls something like this."
-Steve Martin
"The trouble with a kitten is
THAT
Eventually it becomes a
CAT."
-Ogden Nash, The Face is Familiar (1941). The Kitten
---