Dewey's Nine Lives
Dewey's Nine Lives is the follow up book from Vicki Myron, as she returns the infamous Dewey Readmore Books aka Dewey the Library Cat to the bookshelves.

With this second book, she gives us even more insight into the Dewey story, with two new stories about Dewey himself.
There are also seven other stories about cats, with thoughts and lessons from Dewey woven throughout the book, honoring the human-feline bond that was so well conveyed in the original Dewey book.
One of the reasons I started this website was because of the huge impact that Priscilla, Teddie and Frankie have had on my life. I have always had a love for animals and been fascinated by them, especially cats. But, I am clearly not the same person that I would have been had I never met those little balls of fur.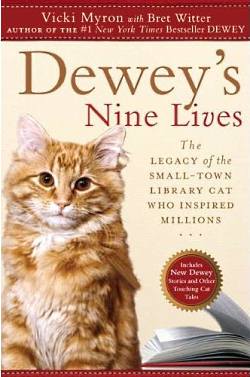 If you're fortunate enough to have been owned by a cat or had a close relationship with a feline, you likely know what I'm talking about. It changes you. This might be true for any human-animal relationship, but for me, my cats have had a particular impact.
That feeling of having been changed, of getting pulled into a place where your perspective on things is forever altered because of your relationship with a cat, permeates the Dewey experience.
This was true of the original book and the telling of the saga of Dewey's life. From his experience of being abandoned in the book return on a freezing cold day all the way up until you read of the worldwide announcement of his passing, you can feel people's perspectives shifting.
This new book, Dewey's Nine Lives, has that same effect on you, like you've gone down the rabbit hole. All cats are teachers, it's just that Dewey's influence reached so many people, and his story has been articulated so well that he seems a bit bigger than life.
I'm not sure how she accomplished it, but Vicki Myron has managed to tell stories of other cats with that same Dewey feeling. Although seven of the nine stories in the book are not about Dewey, you can sense that same connection, that same impact on the people involved.
As you read the book, you'll get absorbed in the stories and the names, but especially, the personalities. You'll learn about Marshmallow, and Rusty, and Page Turner. And then there are the Sanibel Island cats, Tabitha, and Boogie, and Buffy and Miss Gray, and well, too many to mention.
And then throughout the book, Vicki brings you back to Dewey to bind it all together. Like a wise monk with fur, Dewey holds things together and keeps you grounded.
It's hard to pin down one story that conveys the feeling of the book, but I think that the story of Lynda Caira's cat, Cookie, reflects the sentiment pretty well. As cat therapist Carole C. Wilbourn says in Cat Talk, "A cat is a very sensitive animal. How he feels is how he acts."
Cats show their sensitivity in different ways. Cookie, who was a very emotional cat expressed a lot of empathy, and was clearly Lynda's caretaker. It was Cookie's life-long job to take care of her.
Cookie reminds me very much of Priscilla, who was one of the most sensitive creatures I've ever met. Priscilla was empathic to the highest degree. If you were ill or even not feeling as great as you could be, she was sure to be there to comfort you. How did she know?
As Vicki says... "How can you ever thank them enough? How can we ever explain?" I agree and I've often thought the same thing. And Vicki tells us that Lynda Caira, in her letter to Vicki, wrote:
"I have never been loved by another human being, not even by my daughter or my parents, the way I have been loved by my Cookie."
That pretty much says it all. Except to say... four paws up for Dewey's Nine Lives!
If you're looking for other books about cats here are some more suggestions.
Note: I was given a free advance reading copy of the book with the implied agreement that I would do a review. The opinions in this review are mine, however, and not influenced by the book author, publisher or their agents.
---
Cat Lover Products

Cat Lovers Only