Your Cat Travel Checklist
Your cat travel checklist should include a cat first-aid kit, Rescue Remedy, Feliway, a carrier, bottled water, and blankets (full list below).
Traveling with a cat can be extremely stressful for both you and your kitty.

Cats like to be in control. Although there are exceptions, as a rule house cats typically hate car rides and often, other forms of travel as well.
Cats like to explore, but they like it on their own terms.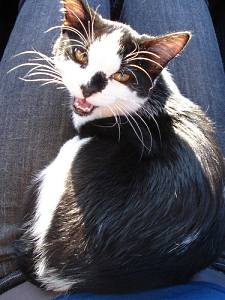 Most cats don't like to be removed from their territory and the familiar sights, smells, and sounds and thrust into an environment that might be scary for them.

If you're moving across the country with your pet, you may be able to contract with a pet transport service to transport your cat for you. I've written about Pet Airways in the past, which used to transport your cat by plane.
They shut down the pet only travel service in 2013 after financial problems, but they've reemerged to offer chartered flights where you and your cat can travel together.

The checklist here works hand-in-hand with this set of travel tips. This information has been compiled from several sources as well as personal experience transporting my cats both short and long distances.
Many cats can become accustomed to travel, and some even seem to like it, even if they don't at first. This checklist can be used as a starting point to help you prepare for trips, especially longer ones, with your cat.
---
Your Cat Travel Checklist
Cat Carrier
Bottled water and a no spill bowl
Dry cat food, small bowl, and favorite treats
Favorite cat toys
A leash and harness (for the experienced, or for emergencies)
Your cat should wear a collar with ID tags, including rabies tags with a current phone number
Cat first-aid kit
Travel litter box, cat litter, and scoop
Power inverter (for the Feliway diffuser)
Photo of your cat (in case she gets away and gets lost. You can use your cell phone to take the picture, but have a backup).
Your cat's medical records
Soft blankets that your cat uses regularly
Paper towels, wash cloths, and plastic bags
Cat-safe cleaning supplies
Bach's Rescue Remedy
Pre-travel vet consultation/check-up for older cats, cats with medical conditions, or those requiring anti-anxiety medication for travel
Source: Much of this list, along with other tips on cat behavior and informative stories, can be found in Arden Moore's book, The Cat Behavior Answer Book.
Forewarned is forearmed as they say, and preparing yourself and your kitty can make cat travel experiences go much more smoothly. You can read about ideas for easing anxiety while traveling with a cat. And, of course every trip starts with getting your cat into the carrier.
Do you have experience traveling with a cat? Submit your stories, ideas, and tips.
---
Photo credit: In the car / CC 2.0