How to Take Cat Photos
Taking good cat photos requires some patience and practice. Having a good camera helps, but it's only part of the story. Eliminate the trial and error by following published cat photographer Troy Snow's tutorial.
Veterinarian Dr. Marty Becker has written a book called The Ultimate Cat Lover which includes some of Troy's work.

As part of a promotional effort by the publishers of the book, I was fortunate enough to be allowed to publish Troy Snow's tips on taking pet photographs on my site.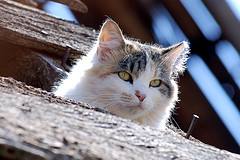 Troy's article, published in its entirety below, describes how best to take shots of Fluffy and Fido.
I was also given permission to use some of his cat photos, some of which are displayed on this page.
---
How to Photograph Your Pets
by Troy Snow
Digital photography has changed everything for the casual photographer. Instead of wasting roll after roll of film -- or not bothering to take pictures at all because of the trouble and expense of getting them developed -- it's now possible to take hundreds of pictures of your pet, happy in the knowledge that if there are just one or two good ones out of every few dozen taken, nothing has been wasted except possibly your time.
Even better, photo-editing software has made it possible to salvage a marginal image. With a few clicks of the mouse, the out-of-frame, out-of-focus, or just "not right" images are jettisoned forever. A few clicks more, and those images with potential are fixed up and made suitable for framing --- a crop here, a red eye changed to brown, the elimination of items cluttering up the background.
But the best pictures aren't made in a software program. They start with the knowledge of how to get great pictures at the first shutter click. Learn these basics and you'll end up with the memories that will last forever:
~ Get Outside ~
Taking pictures outside gives your pet a more natural, healthy look. But animals won't sit still like humans. Dogs romp, cats frolic, horses trot. Learn to adjust your aperture and shutter speed to shoot objects in motion, or use predefined program many cameras include. You'll capture the best of your pet's athletic grace.
If your pet is a solid, dark color, use your flash to bring out the detail in his or her face. If you do end up with a red eye, use photo-editing software (basic programs come free with many new cameras and computers) to fix the problem.
~ Get Close ~
If you want a good picture, you need to get on the same plane as your pet. Shoot at eye level or just above the eye level to get the best visual connection. Be careful not to get too low though. A long snout shot from too low an angle can block the eyes, breaking the connection you're trying to get.
~ Watch the Background ~
Think neutral -- a plain wall, not a cluttered cabinet, or a barn door, not a tool shed. Think contrast, but not too much -- a lighter background for a dark animal, darker for a light pet. If your dog loves to curl up on his paisley dog bed, consider throwing down a solid-colored blanket before you shoot. Your cat might look better against the solid green background of the lawn than in front of a busy garden bed. You might be able to edit a distracting background later, but it's easier to avoid it in the first place.
~ Be Patient ~
If you pet does something cute and you miss it, don't despair. Chances are, if you're patient and keep your camera ready, you'll catch an encore performance.
~ Get Help ~
Children make the best photographer's assistants. Get a kid to help get your pet's attention with a toy or treat or by posing with your horse, dog, cat, or other pet. Nothing is more adorable than kids and pets together.
~ Be Creative ~
If you want to capture your dog kissing your child, do what the pros do: put a little butter on your child's cheek, and let the dog lick it off. Food is good for more than kissing -- it's also great for getting your animal's attention for the shot. Squeaky toys and laser pointers work well, too. If you can get your pet to stay still for a few seconds, throw a toy (or even your car keys) in the direction you want him or her to look.
~ Have Fun with the Software ~
The camera's just the first step to a great picture. Basic photo-editing software can do more than fix errors -- it can turn your images into art! Play with colors, contrast, sharpness, and more, or use special effects such as "watercolorizing" to create something unique.
~ Keep Taking Pictures ~
Just as with children, people tend to take pictures of new puppies or kitties, then put the camera away. But your pet is always changing, and the images you one day love the most might be of your companion as a sweet senior.
So get out there with that new camera, whether it's a pint-size point-and-shoot or a sophisticated digital SLR. You'll find that pets are more patient subjects than people, especially if treats are involved for good behavior.
---
Once you've got your great photos taken, perhaps you'd like to share them with us?
Want To Add Your Own Cat Picture To The Gallery?
Would you like to share a cat picture with us? You can. It's easy. First, enter a description and a story about the picture. Enter some basic information, such as the name of the cat in the pic, and anything else you'd like us to know. Then, upload the picture below.
---
Pictures Of Cats

Cat Lovers Only