Recommended Cat Blogs
Looking for good cat blogs to subscribe to? Here are some blogs I like to read. They're listed in no particular order, and cover many different feline related subjects. Enjoy!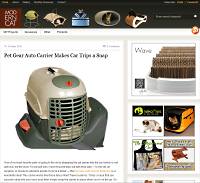 Kate Benjamin blogs about stylish and trendy furniture options and accessories for cats. If you're looking for an upgrade from the the typical, and usually rather bland cat tree, or you're in need of cool looking comfy cat beds, Modern Cat is the place.
In addition to raving about funky, different, and new products from various companies, there's also Modern Cat Studio. Modern Cat Studio, as you can imagine, is Modern Cat's own line of funky, different, and new cat products.
---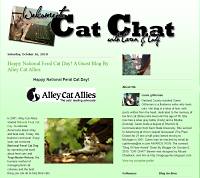 Caren Gittleman is a freelance writer who blogs about cats. With the help of her tabby cat Cody, she covers a wide variety of feline topics, including book reviews and where to get low cost veterinary care.
Her blog is dedicated to the memory of her first cat, Bobo, and often covers animal rights and welfare issues, balanced with a bit of silliness. Caren has been a frequent commenter on this site, and it's clear that she has a high concern for the welfare of our furry companions.
---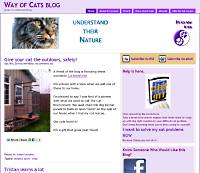 Intriguing insights into the relationships between cats and other cats, and cats and humans. That's what Pamela Merritt offers as she tries to help us navigate the minefield of seeming contradictions that is the psyche of the domestic cat.
Grab your copy of the I Ching, light a candle, burn some incense, and allow yourself to become one with the cat consciousness.
---