What's The Best Cat Toy?
Looking for the best cat toy for your favorite feline friend? A great way to come up with a list of the best of something, is to look at lists that other people have put together.
Now, I must confess, I like lists. I realize that some people may not find them quite so useful, but I think they can be very helpful.

Like a bibliography for a book, you can see all the references in one place.

I find that lists can often be a handy way to put what can seem like a lot of information into an easier to look at and organized format.
The hardest part of putting together a list, for me anyway, is getting started. The second hardest part is stopping once I'm on a roll.
One way of overcoming that first obstacle is to use lists that other people have put together, such as other people's favorites, best sellers, or by taking a poll.
So, in addition to my own list of the best toys, and the list of homemade cat toys, here's a look at some other people's lists.
1. Entirely Pets
2. About.com
3. Feline Express

---
Entirely Pets
Entirely Pets has a list of their top 10 cat toys. It's interesting to look at what retailers and online shops list, because we know that these items are popular with cat owners.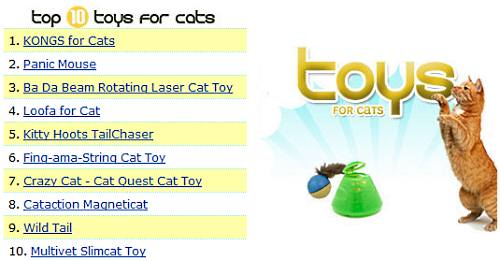 ---
About.com's List
Franny Syufy, the cat guide at About.com put together a list of toys that's definitely worth a look.
1. Da Bird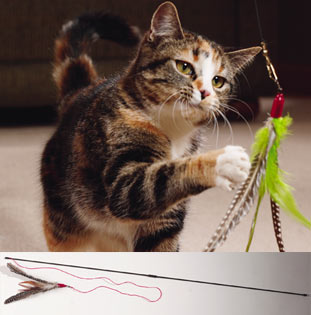 The verdict is in, with most cats giving an enthusiastic paws up for the feathery Da Bird interactive toy.
It hits them from all angles. They love the look, the movement, the sound, and the feel of this toy.
Just like chasing real birdies! You'll have just as much fun with it as your cats will, and this toy is for supervised interactive play only.
Put it away locked up in a safe somewhere when not in use!
Hours of fun and great for exercise, Da Bird is possibly the best cat toy ever. Get plenty of replacement feathers as your cats will tear this thing up.
Cats love sticking a paw under a door, a dresser, or in this case, into a box with holes in it that contains toys inside. Too much fun for the second best on the list.
Since cats can pull the toys out, you'll want to make sure that none of the toys inside the box have any choke hazards. Things like mice with glued on eyes, or dangling strings or bells should be removed, or put it away when you can't supervise.
If your cat gets bored with any of the toys, try rotating them, covering them in catnip, or try throwing some treats into the mix.
Catnip Cigars are third on the list. Cat nip toys can indulge your cat's love of the nip, if she's affected by it of course. These toys allow your cat to get their paws wrapped around something substantial and dig at it.
There are also Yeowww! Catnip Bananas, and fishies and other shapes too!
Many cats really enjoy this type of toy. I would actually personally lean towards voting for the Kong Kickeroo myself, though, but your cat is the ultimate judge here. Get both.
Rounding out the top 5 in Franny's list is the Cat Dancer and the Cat Dancer Cat Charmer. If you want a cheap alternative to the Cat Charmer, I use an old worn-out belt that I was going to throw away anyway. It's not quite as good, but it's loads of fun.
---
Feline Express
Feline Express has a best cat toy list, and you might find something your kitty enjoys.
---
Safety
Cat toys are are vital for enrichment, especially for indoor cats that may not get enough exercise or stimulation. But, the best cat toy is a safe cat toy. Remove any parts that may come loose from all toys.
Always supervise your cat's play with toys that may be dangerous, and place any toys that could be unsafe out of reach and locked away when not in use.
Don't assume your cat won't get to a toy that's in a drawer either. I've seen cats open closets, doors, drawers, and cabinets to get at what they want. Now, go play with your crazy little cat!
---