Heated Cat Houses
Heated cat houses are an excellent way for a cat outdoors to pass the time on cold days. In colder climates, an active heat source may be necessary, while warmer climates may only require a thermal pad.
You can buy them made in various sizes and designs, some of which may have some assembly require. Or, you can build them yourself.
Whether you're giving feral cats and strays a place to keep cozy, or you need a safe warm place for your own cat, heated cat houses will do the trick.
You could even keep one indoors to give your cat a warm, quiet resting spot.
---
Insulated Outdoor Cat Houses
While a heated bed or pet pad can provide a direct heat source, an insulated outdoor cat house can be used to keep your kitty extra warm.
Some of the insulated houses will have just an insulated floor, and others may have it all around.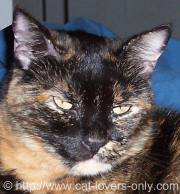 With the insulation, your cat's body heat will be trapped in the house.
A pet bed with a thermal liner will retain your cat's body heat. In some milder climates, this may be enough to keep the cat house warm enough.
In colder climates, you may need to add a heated cat bed or pad.
At stabobspethouses.net you can buy decorative heated kitty houses. These are insulated cat houses that are designed to use just a 40 watt light bulb in conjunction with a thermostat. The insulation traps the heat generated by the bulb (and the cat) to keep your kitty warm.
This is an alternative to using an electric heated pet pad or cat bed, and a relatively low power and safe way to heat the house. There's a mounted thermometer as well so you can check the temperature.
No matter how you heat the house, a non-insulated house will be more difficult to heat, and may cost more. The insulation can also help keep the house cooler during the summer.
Catbedandtoy.com carries insulated cedar kitty houses using a thermal-ply insulation inside the floor, walls and ceiling.
Northland Pet Supply makes insulated cedar cat houses that assemble with a power screwdriver.
---
Senior Cats
All house cats love warmth, that much is sure. More than one cat has burned its tail while sleeping near a fire.
Cats typically crave extra warmth as they age, perhaps to help lessen the pain of arthritic joints, or due to lower body mass and slower metabolism causing less internal heat production.
Since senior cats need more warmth, you could put one of these heated cat houses indoors for your older cat.
An insulated house with a cat bed that uses a thermal liner to retain the cat's body heat, or a heated cat pad would be a nice place to nap.
If your older cat goes outdoors, you could have one indoor and one outdoor to cover the bases.
For the indoor option, K&H has the Thermo-Kitty Mat, and for outdoors, there's the Lectro-Soft Outdoor Heated Bed.
Or, you can get your kitty a heated bed that converts into a little cabin. Cozywinters.com sells the Thermo-Kitty Cabin, which is a heated cat bed for indoor use only.
---
Cat Lover Products

Cat Lovers Only