Having Trouble Finding Free Online Veterinarian Advice?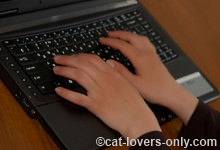 Looking for free online veterinarian advice?
Having trouble finding it? Me too. Try my list below.
If you're in need of advice on the health of your cat, these sources may help you at no charge (or a small fee in some cases).
Obviously, if you have a health emergency with your cat, you need to take your kitty to a veterinarian, or a local animal hospital.
There are times, however, either before or after getting help from your local vet for a non-emergency situation, that it can be helpful to get input from a qualified vet online.
Not to diagnose a problem directly, of course, but just to see if you're going in the right direction, and if there are treatment options and possibilities you haven't thought of.
In fact, there are several very obvious advantages to getting advice in this way.
First, it's free (or much lower cost than visiting your vet).
Second, you don't even have to leave your house.
Third, you can use this type of service to validate your concerns over your cat's health, and/or the veterinary advice you're getting from your local vet.
Be careful
I know it goes without saying, but I'm saying it anyway. Be careful out there. Be sure to read my rant "before consulting an online veterinarian."
There's a big demand for expert answers to questions on a host of pet related issues. With that has come a slew of online services, and I'm sure there will be many more. Some have come and gone in what seems like the blink of an eye.
Note: The world of online vet advice is a constantly changing landscape, and some of the below resources may have either stopped providing free services, or providing services at all, or they may have changed up their websites without properly forwarding the links.
If you know of a free or low cost service that has changed, or one I don't have listed, feel free to let me know.
If instead, you're ready to chat with a cat health expert and willing to pay a small fee (CLO gets a small commission if you complete your transaction), you can click this link below.
OK, with all that said, below is a list of sites offering free online veterinarian advice (a few are almost free)...

Larger sites and organizations
Purina
Purina says they want to answer all of your pet questions, big or small. 
PetMD
PetMD has an ask the experts feature. You can search and read questions by others that have been answered by their "vets, behaviorists, and other health experts."
Veterinary Partner
Veterinary partner has an ask the vet feature.

Smaller veterinarian sites
Ask a vet
Dr. Ellen Schmidt answers questions via her website.
Dr. Les Wilner Phone Consult
Dr. Les Wilner does telephone consultations.
---
Ask A Veterinarian

Cat Lovers Only