Budget Cat Gift Ideas: 5 Items Under 20 Dollars
Cat gift ideas for people on a budget. Here are five items for under twenty dollars that will make any cat lover sit up and purr.
One thing that is certain about cat lovers is that they always appreciate anything that honors or represents the feline, regardless of cost. It doesn't have to be fancy, or large, and you don't have to make a big deal out of it. It just has to be, well, cat-like.
These inexpensive gifts are sure to please...

---
#1: Key chains
One of the most popular gifts at Amazon is this high tech Coby 1.5-Inch Digital Photo Keychain. It has a 1.5-inch CSTN LCD full-color display and can store over 60 photos of your favorite cats.
Now you can have 60 pictures of your cats with you at all times!
It supports various formats, and can display picture files in JPEG, GIF, and BMP.
There's a USB port so you can transfer your files to your Windows or Mac OS computer, and a built-in rechargeable Lithium-ion battery. Makes a great addition to your cat gift list.
---
#2: Stuffed Animals and Plush Toys
The Webkinz Himalayan Cat makes a cute gift, as do the rest of the Webkinz crew (and other stuffed animals). Kookeys plush cats, like this Kookeys Tiger Kitten come with a key code so you can register your new pet online. The Kookeys website provides an online world based on the Kookeys plush toys, where children can have fun while learning.
You can buy more stuffed animals, like this Siamese kitten Cleo at Stuffedanimals.com.
They carry plush toys from Aurora, Ty, Wild Republic, and others.

Here are some other Webkinz and stuffed animal items from Amazon...
---
#3: Cat Jewelry for Under $20
Cat jewelry is a sure fire way to please a cat lover.
Catsplay has this Love My Pet Photo Frame Necklace and Earrings set. They also have over 100 jewelry items for cats and dogs including pendants, decorative and jeweled collars, and necklaces.

These Hello Kitty Charms are sure to please. A couple of these are over $20, but many are under.  
Know someone who's a cat lover who also likes to bead? Give them this book as a gift and they can make their own beaded cat lover jewelry.
The Cat Lover's Beaded Project Book: Techniques for Beadlovers (the Beading Books Ser.: Techniques Inspiration & More)
Below are some additional items from Amazon (a couple of these are more than $20.00)...
---
#4: Mugs for Under $20
Show us your mug! Practical and decorative at the same time, mugs are always a good choice. Showing off your fondness for felines can't be much easier than raising a mug and taking a sip of... catnip tea?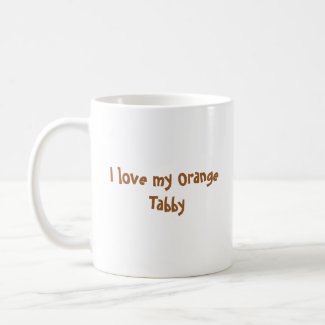 Orange Tabby Kitten Coffee Mug by heartlocked
More Kitty Mugs
---
#5: Cat Calendar and Stationary Items
It's the law. Every cat lover must have a cat calendar.
Since having more than one calendar is common (kitchen, home office, work office, organizer), you really can't go wrong by buying calendars as presents.
I can't remember the last time there hasn't been a cat calendar in my house, either on the wall or on my desk, or sometimes both.
There's a huge selection of over 700 animal calendars at Calendars.com.
Amazon also has a good selection of calendars, such as the 365 Cats Page-A-Day Calendar.
---
More Cat Gift Ideas for Big and Small Budgets
Since I'm on a roll, I'll include some more here. In case you haven't seen them, there are other pages on the site as well that offer more ideas. A few of them are listed below.
Lance Smith, of Country Music Television fame, has written a children's book called The Old Man and The Cat
which has great illustrations, and, in rhyme form, tells the story of an old man and his cat. It's just the right length to be a great bedtime story book that kids will like.
More recommended cat books for fun and learning about kitties
Stuck for an idea? Here are over 30 ideas for cat lovers that will most certainly help
Cat collectibles make great presents
---
More Items...

---
Cat Lover Products

Cat Lovers Only