Napoleon Cats
by Rebecca Warren
(Indiana)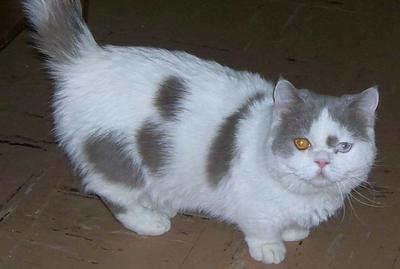 Lucas rare odd/eye blue and white male
Napoleon cats are created from a cross between a Munchkin and a Persian or Exotic. Napoleons have a round head, face and eyes, whereas the Munchkin has a long nose like a domestic cat has.


The Nap gets its short legs from the natural mutation from the Munchkins, and their face type from the traditional or baby doll type Persian or Exotic.
They come with long hair or short hair like the Persian or Exotic type coats. They have all the coat colors from the Persians/Exotics and a few more from the Munchkins, like sable, sepia and mink.
Some of the kittens in the Napoleon, Munchkin and other dwarf cat litters are standard or short legged, and some are non-standard or long or normal legged.
The Napoleon and Munchkins have such wonderful personalities that the non-standard kittens sell as well as the standards do. The non-standards look like traditional or baby doll Persians/Exotics.
Napoleons are never bred for an extreme flat face like the extreme Persians have. The goal of the breed is to have the cute button nose face that avoids the problems that the flat face causes.
Naps are registered in TICA and CFF. The Munchkins, Napoleons and other dwarf breeds do not have any breed specific health problems, and the Naps are tested for FeLk/FIV and PKD negative breeding cats.
Breeders sell their kittens with health guarantees and contracts for fully vaccinated, wormed and vet checked kittens. The dwarf breeds now have many breeds available which are crossed with other breeds like Sphynx, American Curls, Folds, Bengals, Curly coated breeds and many other breeds.
There is often a waiting list if you contact a breeder looking for a kitten. Since these kittens are rare, expect to pay a little more for them.
If you want to start breeding cats, contact a breeder to mentor you. There is more info at my website about Naps at
purwakycattery.weebly.com
or
Purwaky Cattery on Facebook
.