Little Orphan Socks
by DaNae
(Northern Minnesota)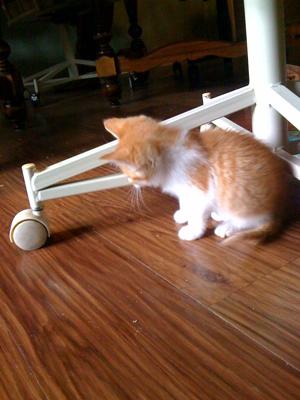 Socks the Kitten1
Little Socks just joined our family. She has five brothers and sisters, but unfortunately her mama and 2 siblings passed away when they were only 6 weeks old.


So, tiny and all, our family adopted her and one of her sisters into our family. These little kittens have been such a joy to watch and cuddle.
Socks loves exploring under the couch and avoiding the dogs as much as she can. She is probably the more curious of our two kittens. She'll go into new places first while the other follows.
Her favorite activity is to crawl under the cabinets and wait unexpectedly to pounce on her sister, Tigger. But after a long hard day of tackling her sister, she'll curl up and enjoy a good long nap on my lap.