How to keep kitty off the stove, microwave, counters, etc.?
by Lora
(Georgetown, Ohio)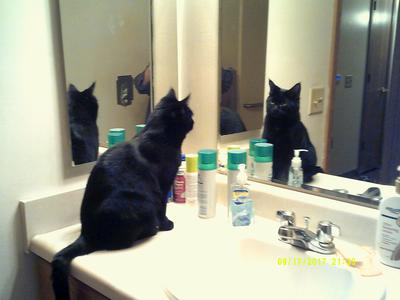 Rosie admiring Rosie
Rosie is a darling, sweet kitty. She is three plus years old. We adopted her when she was one year old.


She is a CLIMBER. Nothing deters her. She is on the stove (even when cooking is going on). She scoots up on the microwave, to the refrigerator, and then on to the cabinets. The higher the better!
We have put cardboard barriers by the washer/dryer. She leaps over them and attacks the vent pipe on occasion.
We just tried sticky paws on the counters and stove. Didn't work. She walked over them like they weren't there. Before that we tried double stick tape. Same result.
We have three cat trees throughout the house. Just trying to get her to concentrate on them and climb those. She does, and anything else that catches her fancy.
We recently got a new kitten (part Siamese). She is 9-10 months old. We have had her since August. She is a little hooligan and plays with Rosie a lot. This still does not quell Rosie's desire to climb everywhere.
She has pulled down a large door (that was removed to install flooring). She has pulled on and climbed on shower curtains. She gets stuck there and then yells to get her down.
She turns over waste cans and heaven forbid if she gets in a closet, there go the clothes on the floor.
Any thoughts or advice will be most appreciated!
Editor's Note:
I asked our Facebook page audience if they had any advice on keeping cats off of counters, stoves, and other high places. Many said they don't try.
Suggestions include aluminum foil, keeping pans on the burners at all times, and giving up entirely.
You can see all the
suggestions here
.